Choosing the right theme for your site is a very important decision that can have a huge impact on your site's success. No matter how amazing your content is, nobody will read it if visitors find your site unattractive and unprofessional. That's why you must ensure that your theme is appealing to your users and provides the features you need. Last week, we did a thorough review of Divi by Elegant Themes, one of the best multipurpose themes out there. In this post, we are going to analyze another heavyweight: Avada theme for WordPress.
Let's have a look at our complete unbiased review where we'll cover how to set it up, its main features, and pros and cons.
Introduction To Avada Theme for WordPress
Avada is one of the best-selling WordPress themes in the ThemeForest marketplace. It's developed by ThemeFusion, a very famous company with a great reputation in the market that is a Power Elite author on Envato (they sold more than $1M worth of products through Envato).
Launched in August 2012, Avada is one of the most famous WordPress themes out there for good reason. As of March 2020, it's been downloaded more than 580,000 times, making it the #1 theme!
So now that we have a bit of context, let's have a look at why Avada for WordPress is so popular and well regarded by its users.
Avada Theme For WordPress – Main Features
There are thousands of themes so if one has made more than 580K sales, it must have something good. In this section, we are going to show you the main features of the Avada WordPress theme.
Advanced Theme Panel
Every top WordPress theme needs a good theme panel to let you easily make changes to your entire website. In this regard, Avada provides many customization options in a couple of clicks.
Some of the most popular customizations available are:
Layout
Responsive
Colors
Header
Menu
Logo
Footer
Sidebar
Others
As you can see, you can customize every single aspect of your site. Simply choose the option from the panel that you want to personalize, select the options you want and save the changes. It's that simple.
Responsive Design
The number of mobile users has been increasing in the last years. People use their mobile phones for browsing instead of laptops so nowadays your site must have a responsive design. This means that your website will fit and will look good in every screen size and mobile device.
Avada theme for WordPress is responsive and also offers customization options in the panel.
Page Builder
Page Builders help you design your site's homepage, service page, footer, and anything you need. There are many free and premium tools in the market such as Elementor, Beaver Builder, and Visual Composer. Avada can be seamlessly integrated with all of them so you can choose your favorite page builder without any restrictions.
However, you can also use Fusion Builder, ThemeFusion's page builder. It's very easy to use and it's designed for the Avada theme for WordPress.
Optimized For Speed
Speed is an important factor to rank high on Google searches so regardless of whether you're running an online shop or a personal blog, you should optimize your website's speed. There are many speed optimization tricks such as compressing images, using a CDN (Content Delivery Network), minifying static contents, using a WordPress caching plugin, and more. However, your theme plays a massive role in your site's speed and performance.
So how did Avada for WordPress perform in our speed test? We have tested a demo website as shown below:
The page fully loaded in 1.9 seconds, the total page size was around 3MB, and the page generated 70 requests. Considering that the page is just a dummy page and it's not 100% optimized for speed, the results are pretty good. And if you optimize it, the score will be even better.
This means that the Avada WordPress theme is optimized for speed and performance.
SEO Friendly
SEO is extremely important for every site so plugins such as Yoast SEO, Rank Math, or All In One SEO Pack are a must. These tools will help you optimize your website's content for on-page SEO. This way, you can improve your overall WordPress SEO. The good news is that the Avada WordPress theme comes with inbuilt Schema markups.
This means that the search engine bots will understand your content better, and they will rank it accordingly. You can verify the markups using the Google Structured Data Testing Tool.
Multipurpose
Even though it's described as a corporate WordPress theme, Avada is multipurpose. With it, you will be able to design different types of websites about:
Fitness
Food
Entertainment
Driving School
Freelancer
Spa & Wellness
With the help of a page builder, Avada lets you easily design any type of homepage for your blog.
65+ Demos To Choose From!
Designing a WordPress blog's homepage from scratch takes time. However, things are much easier if you have pre-made demos available. Avada comes with more than 65 demos that you can import to your site. They come with all the custom configuration and design options for your website.
To check out the demos, go to the Demos section in your panel.
There are 65+ options to choose from. Simply click on the one you like and you'll get an option to either preview the demo or import it.
If you choose Import, a pop-up will show you additional information regarding the demo you selected and what you want to import.
After installing the required plugins and contents you need to use, select the content you want to import and click on the Import button.
Then, after a few seconds, the demo will be imported to your blog and it'll be ready to go.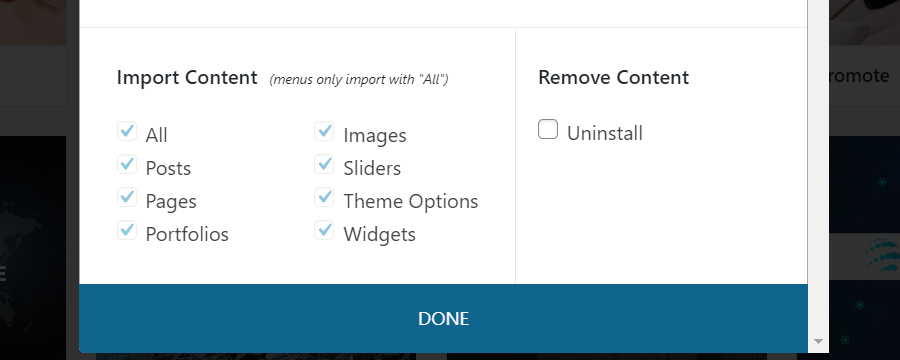 If after testing out the demo you're not happy with it, you can easily uninstall it. Simply open the demo you imported and click Uninstall.
Avada Theme Customizations
Header Customization
Avada theme for WordPress also lets you control your entire website header.
You can customize options such as:
Header position
Header layout
Slider position
More
If you want to customize the headers, there are currently seven styles that you can choose from to give it the look that best suits your site.
Footer Customization
Similar to the header, Avada gives you complete control over your footer.
By default, you get four footer columns in this theme but you can customize it by increasing or decreasing the value.
Additionally, you can add special effects to your footer. Simply select the effect you like and click Save.
On top of that, without editing your footer.php theme file or doing any coding, you can add custom text.
After making the changes, click on the Save Changes button.
Color Customization
If you need to make your brand stand out from others, probably you need to design your blog professionally, choose the If you want to stand out from your competitors, you need a professional-looking site. And the colors you use play a big part in that so choose them wisely. The bad news is that to customize the style and colors of your blog, you need to know a bit of CSS and add it to Customizer > Additional CSS.
But what can you do if you don't know how to code CSS? The Avada theme for WordPress has you covered because it makes color customization simple.
In your theme panel, you will find an option to change your website colors.
This way, you can customize the:
Theme Skin
Color Scheme
Primary Color
If you want to do additional changes, you'll need to use custom CSS codes.
Bonus: If you need to style your website without writing a single line of code, you can try CSS Hero. With this tool, you can select the element you need to style from the website's frontend and change the colors with a couple of clicks.
Custom CSS Insertion
To add CSS to your WordPress blog, you have two main options.
Editing theme's style.css
Customizer > Additional CSS
With Avada for WordPress, you can easily add custom CSS codes to your website from the theme panel. Simply go to theme panel > Custom CSS.
There you have to enter your codes and save it to override the theme's default styling. Keep in mind that if the changes are not visible in the frontend, there may be an issue with the caching. To fix this, simply clear your WordPress cache, and you are good to go.
Import / Export
Another interesting feature of the Avada theme for WordPress is the possibility to import or export your customizations. This is very useful for those who have more than one website and want to have a similar style in both sites (they both need to be using Avada).
From the Import/Export section, you can generate a file with all the customizations of your site. Similarly, you can select the Import option if you already exported a file.
Logo
Every website needs a good looking logo and Avada for WordPress lets you customize it from the theme panel.
The main customizations you will see in this section are:
Alignment
Margins
Background
Custom Link URL
Additionally, you can upload a default and retina default logo of your website either by directly uploading a logo or choosing an image from the media library.
Translation Ready
One of the main advantages of the internet is that you can reach an international audience. Even though English is widely accepted as the international language, translating your site to more languages is key to reach local audiences and generate more traffic from search engines. This is even more important if you have an online business.
The good news is that the Avada theme for WordPress is fully translation ready. This means that you'll be able to display your site in different languages without the need to code anything.
Avada is also compatible with most translation plugins such as Polylang, WPML, or Weglot.
Code Fields
Do you need to add a Google Analytics code to your website? Most people prefer a plugin like MonsterInsights to integrate Google Analytics with WordPress. However, if you don't want to increase the number of plugins you have installed and you prefer to code it, Avada for WordPress has something for you. This theme gives you the option to add GA code in the header or body.
Simply add the code to the theme panel's code snippets section and save the changes. It will be reflected in the frontend in no time.
Typography Control
Every theme comes with a font integrated. However, to add new fonts to your website, you can change the code or rely on a dedicated WordPress plugin like Custom Font If you choose the coding method, you might also want to edit your WordPress header for inserting the font script and add custom CSS to your style.css file for styling it.
If you don't know how to code but you don't want to add any more plugins to your site, Avada for WordPress has options for you.
Under the theme panel, there's an option for typography.
You can make changes to the header or body font without adding or editing a single line of code.
Simply select a font family from the dropdown menu.
Apart from the font family, you can also change the font-weight, style, size, line height, letter spacing, and more. The good thing is that you can see the preview of everything you're doing right below the configuration wizard.
Additionally, you can add custom fonts to your website if you have font files.
And after adding the font, you could mention it from the dropdown menu.
WooCommerce Ready
WooCommerce is one of the most popular plugins in the market created by the Automattic team. As of March 2020, more than 5 million WordPress bloggers are using this plugin designed for eCommerce.
If you want to integrate an online store with WordPress, this is an excellent choice. So if you use WooCommerce, you should make sure that your theme is optimized for WooCommerce. Many WordPress themes are designed for WooCommerce but if you have an online store, you can also use Avada.
The Avada theme for WordPress is multipurpose so you could also use it on eCommerce stores.
Optimized For Gutenberg
WordPress 5.0 and above versions come with a brand new block editor called Gutenberg. And the best part is that the Avada theme for WordPress is 100% optimized for Gutenberg. This means that you won't have any issues with the theme and its core.
Now that we've had a look at the main features of Avada, let's see how you can set it up on a WordPress install.
How To Set Up Avada Theme for WordPress
Since Avada is a premium WordPress theme, you won't be able to install it directly from the WordPress themes repository. First, you need to purchase the theme from ThemeForest marketplace using your PayPal account or credit card. Then, the theme would be available in your account so you'll be able to download the theme files.
Once you've done that, extract the files. In the folder, you will see a file called Avada.zip. That's the file you need to install on your blog – the core theme.
After that, log in to your WordPress dashboard and go to Appearance > Themes. There, you will see all the themes you have on your website.
To add a new theme, click on the Add New button.
Then, select the Avada theme file from your local storage and click Install.
Once you've installed the theme, activate it.
That's it! You've just set up Avada for WordPress!
Now that you have installed and set up the theme, let's have a look at how to use it to make the most of it.
How To Use Avada Theme for WordPress
Most new WordPress themes offer a theme panel for easy configuration and Avada is no different.
After installing the theme you need to install the required plugins. Currently, Avada needs the Fusion Core and Fusion Builder plugins for better performance.
To do that, just click on the Install button and activate them.
On the other hand, you can always install premium plugins and free version plugins. Some of the ones we recommend are:
Convert Plus
Slider Revolution
Advanced Custom Fields
Contact Form 7
Yoast SEO
Additionally, if you want to receive support and updates, you should verify the theme with a valid license key. To do this, go to Registration under the theme settings and enter your registration key.
If you don't have a key yet, you can generate a token using this link. Simply log in to the Envato account you used to purchase the Avada theme for WordPress and create a token of that account. After submitting a valid token on this page, you will get every theme and plugin update.
This is a very important step as keeping your theme updated to the latest version is crucial to avoid getting hacked.
Finally, you can also add small patches via the Fusion Patcher settings.
Pricing
Even though Avada for WordPress is one of the best themes out there and comes with plenty of features, it's not an expensive tool.
As of March 2020, there are two pricing options.
Regular License – 60 USD (one-time payment)
Extended License – 2950 USD (one-time payment)
If you are purchasing this theme for one site, the Regular License is what you need. So you'll get all the features for just a one-time payment of 60 USD.
Support and Updates
If you purchase the Avada theme for WordPress from the ThemeForest marketplace, you will get lifetime updates. On top of that, you'll get six months of free support. If you want to extend the support period to 12 months, you'll need to pay 18 USD extra.
On top of that, six months of free support got added to the product. You can always extend the support period by paying some extra cash.
Pros & Cons
So now that we have a clear picture of what Avada for WordPress offers, let's sum up the pros and cons of this theme.
Pros
Affordable: For only 60 USD you get lifetime access for one site
Great theme panel that makes it easy to manage
Plenty of advanced features and customization options
Hundreds of themes
Very good documentation
Excellent support
Integration with WooCommerce
Cons
Only 6 months of support. To extend it you need to pay extra
License is per site so it can be expensive if you have several websites
Fusion Page Builder is shortcode based. This means that if you stop using Avada and change your theme, you'll have to start from scratch.
Avada Theme for WordPress: Conclusion
All in all, the Avada for WordPress is the most popular theme for good reason. It comes with a lot of advanced and trending features, great customization options and excellent support. And the best part is that it costs 60 USD. If you're not sure if Avada is the right theme for you, you can check out one of their demo versions for free. This way you can make sure that it has all the functionalities you need before spending any money.
So if you're looking for a multipurpose WordPress theme for your business, Avada is a top choice that you should consider. If you're still not sure, you can also check out Divi, another amazing theme.
Have you tried Avada? What do you think about it? Please let us know your thoughts in the comment section below.