Have you ever wanted to add social media feeds to your WordPress site? Competition nowadays is fierce, so if you want to improve your user experience and grow your business, social media feeds are a must. And this doesn't mean simply adding social media buttons but embedding the feeds on your site to build a stronger online presence and attract more visitors.
Before we jump into how you can add social media feeds to WordPress, let's have a look at why you need them.
Why add social media feeds to WordPress?
You should add information to your page regularly, but having a social media feed draws attention to your off-page activity. It also helps you keep it updated, relevant, and fresh.
A social media feed becomes another point for advertising and affiliates.
It increases interactions and engagement with your social networks.
The more contact shoppers have with your brand, the more possibilities you have to generate sales or interest in your products.
It increases brand awareness.
Remember that the features of the plugin you choose should be aligned with the goals of your website and your digital strategy. In this list, you will find simple plugins and widgets that allow you to display several social networks at the same time and are highly customizable so that they adapt to your website. Take a look!
Plugins to add social media feeds to WordPress
The best plugins to add social media feeds to your WordPress site are:
Walls.io
Feed them social
10web Social Photo Feed
Lightwidget
10web Social Post Feed
Social Feed
Flow-Flow Social Stream
Appreplica Social Feeds
Pinterest Widget Builder
Smash Balloon Social Post Feed
Custom Twitter Feeds
EmbedSocial
Curator.io
Twine Social
Feeder Ninja
WP TikTok Feed
Walls.io is a top plugin with plenty of functionalities. Among all its features, there's one that stands out: it allows you to add social media feeds to WordPress without installing a plugin for each social network. Not only can you display the content you published on social networks but also you can follow and publish the content that other users generated about your brand.
Other features:
Text & image spam filters
Sponsored spaces
Responsive design
Display posts in the language of the audience
Periodically reposts already approved content from your wall to the top, so your wall looks dynamic
Manual moderation
Wide variety of themes
Customizable design
Allows custom CSS
This is one of the most popular plugins to add social media feeds to WordPress and for good reason. Feed them social has 4.7 out of 5 stars on the WordPress plugins website and has both free and premium versions. With the free one, you can display your Fan page, Facebook albums, or album covers. It also supports other social networks like Instagram, Twitter, Pinterest, and YouTube.
Feed them social is very easy to use and it's a great option for photographers or make-up artists.
More features
You can show the social feeds on any post, page, or sidebar
Shortcode generator
Font colors are customizable
Share buttons for Facebook, Instagram, Twitter, Pinterest, and YouTube
You can add Like and/or Follow Buttons
With the Premium Extension, you can decide how many posts, pictures, tweets, or videos for each social feed you want to show
Load More Button option and Auto Load functions
Mobile-friendly design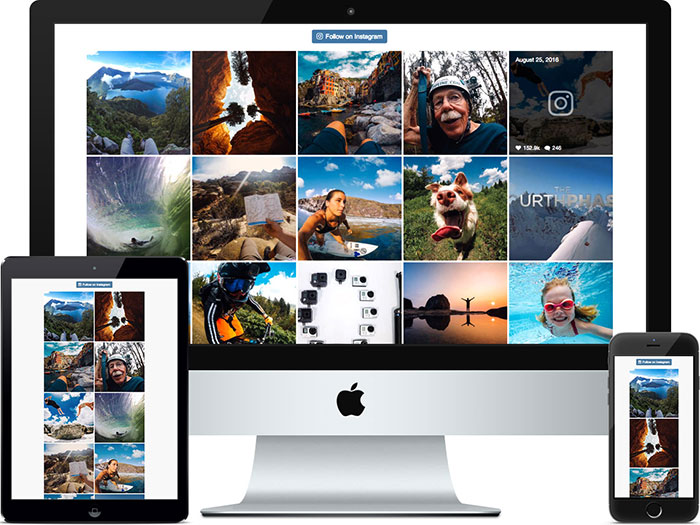 10web Social Photo Feed is one of the best social plugins developed especially for Instagram. This plugin is very useful for websites that focus on visuals and design such as photography sites, travel/food blogs, fashion blogs, decoration, and more.
There are both free and paid versions. With the free one, you can show one feed with posts and one hashtag, while the Premium one offers more options and lets you show content from multiple hashtags. This is an excellent option if you want to share content related to your brand and increase your audience's engagement.
Features:
Customizable layouts
Responsive design
Custom condition types: you can filter the feed and show or hide certain kinds of posts
Instagram widgets
Show the posts in a lightbox
Wide variety of themes
Infinite scroll or pagination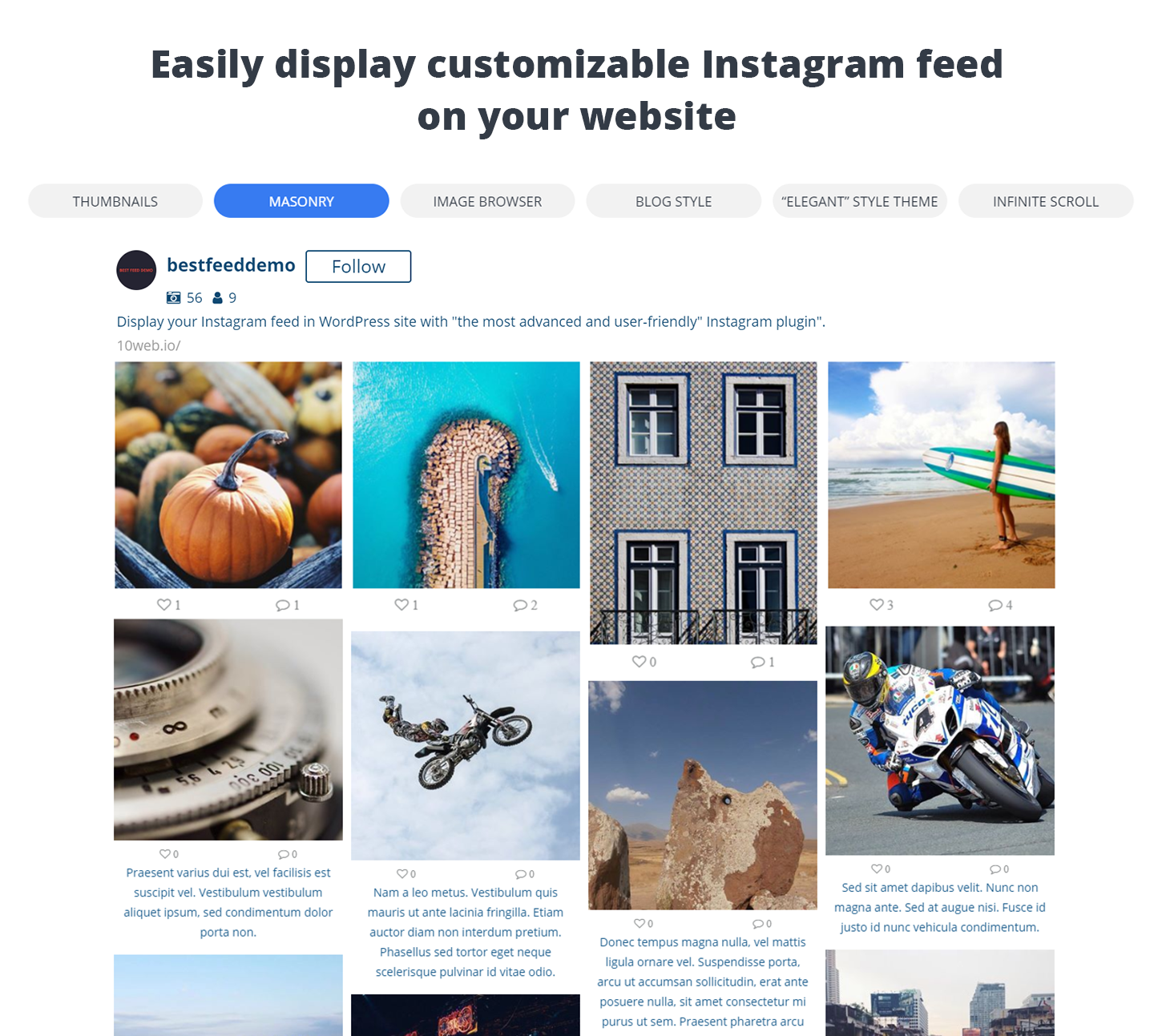 Lightwidget is an excellent tool that lets you add an Instagram feed onto your website. The great advantage of Lightwidget is that it's just a code that you can copy and paste so it doesn't require installing anything. Its design is very clean and it has a variety of customization options like hover effects, captions, padding, square crops, hashtag filtering, and more.
Other features:
Responsive design
Responsive design widget
Keep in mind that the free version will not load if your site has an SSL certificate or green padlock. If that's your case, you'll have to upgrade Lightwidget for a one-time payment of USD 10.
10web Social Post Feed is a plugin developed specifically for Facebook. This way, you can display all or part of the content of a Facebook feed such as pictures, videos, status updates, and more. And the best part is that you can customize each type of content to make the most of it and increase users' engagement.
Moreover, the advantage of using Facebook for your web is that you can add followers to your fan page, use the information to segment Facebook Ads, and boost your Facebook Shop.
Other features
Specific content feeds, where you can choose to display only a single type of content from your Facebook wall (photos, videos, albums)
Show Facebook share buttons
Feed auto-update: you can specify the feed update interval, and the feed content will be automatically updated within the provided period. You can also choose a feed update option, whether the old posts are removed when the new ones are added, or the old ones are displayed together with the new ones
Social Feed is a top social feed plugin that allows you to display your feeds from your Facebook, Instagram, Twitter, Pinterest, and VK accounts. This tool lets you create one feed from one of your social accounts or create custom social feeds taking information from the accounts. For example, you can choose to show just pictures from Instagram or Pinterest which means that you can use it as a gallery.
One interesting feature about Social Feed is that It's the only plugin that lets you remove the social icons from your feed if you want a clean social feed design.
More features:
Limit the number of characters to show
Show/Hide display pictures, post dates, and caption texts
Display a specific number of social feeds from your social media accounts
Built-in shortcodes
More than 10 languages to choose from
Responsive and mobile-friendly
Flow-Flow Social Stream lets you easily add social media feeds to WordPress websites with a one-click API authentication. This plugin is highly customizable and has an amazing drag and drop builder grid that allows you to display posts from different social media sources on the same page. Additionally, Flow-Flow Social Stream shows social media indicators like comments, likes, views, and more to engage your audience.
Other Features:
Visual Composer integrations.
Cross-browser: Internet Explorer 9+ and other browsers
Smart cache
Optimized for AJAX loading and PageSpeed
One-click API authentication for Instagram and Facebook
CSS3 transitions, animations, and 3D Transforms
Responsive layout
It allows you to show or exclude posts by words, usernames, or URLs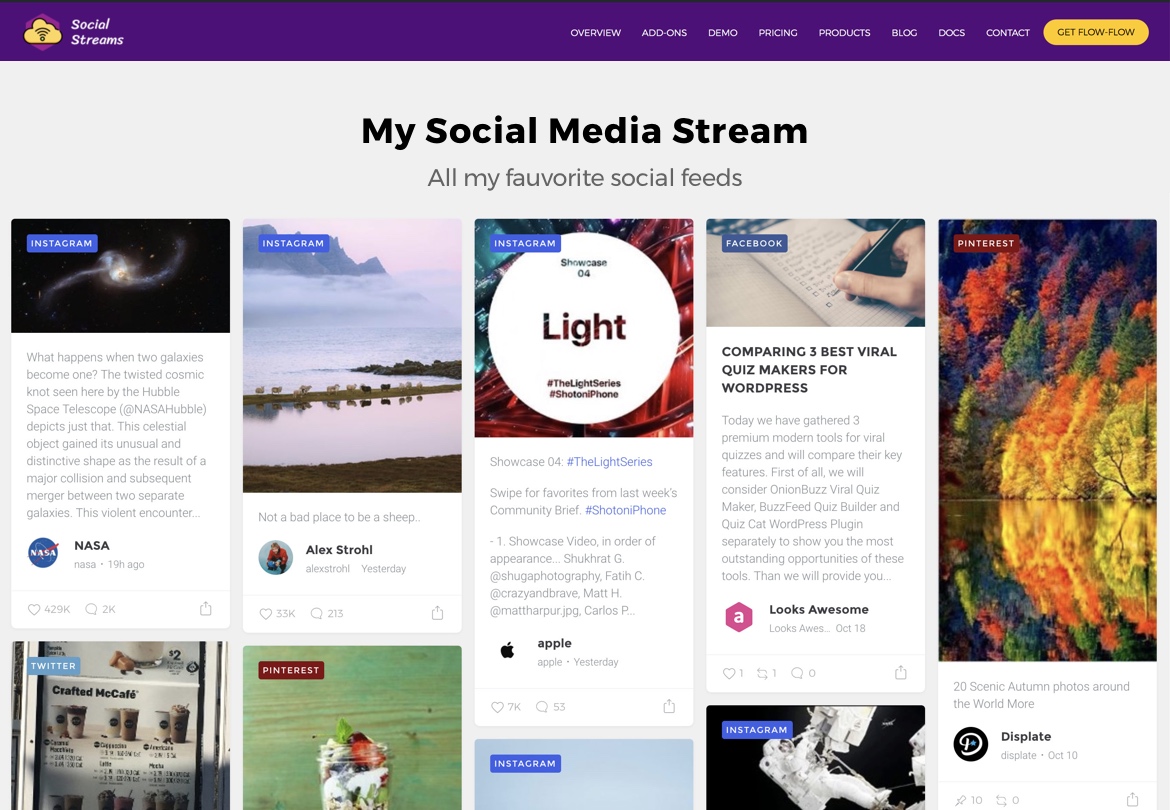 What makes this plugin different from the others on the list is the fact that it lets you add the social media feeds with an almost native look without slowing down your website. While most of the other tools focus mostly on customization, Appreplica Social Feeds is a cloud-based solution that focuses on performance.
Other features:
Custom colors and fonts
Responsive design
Almost a replica of the original social network
Real-time synchronization
It can be added to a Facebook Fan Page tab
This is an ideal solution for those who need a specific social plugin for Pinterest. Pinterest Widget Builder lets you create buttons and widgets and add them to your WordPress site in no time.
With this tool, you can embed your Pinterest feed and the URL of the board with a simple code. Even though the widget has the native Pinterest look, it's not customizable and it allows you to show the save and follow buttons, single pin, board, and profile widgets. Additionally, the size of the widget is: 420px – 350px (length – width).
With more than 200,000 active installations, Smash Balloon is one of the most popular social media feeds for WordPress. This plugin is developed especially for Facebook and lets you display Facebook posts on your site. Additionally, it allows you to hide certain parts of each post, the profile picture, and the name of the author above each post.
Smash Balloon Social Post Feed has a free and a premium version, and has a lot of customization options, and allows you to adjust it to the look and feel of your website.
Features:
Display feeds for multiple Facebook pages
SEO-friendly
Customizable CSS
Supports Facebook tags
Select the number of posts per page and the date format
Supports custom links and shortcodes
Set the maximum character length for both the text and descriptions
Supports Localization/i18n to show the feed in the correct language
If instead of displaying a Facebook feed on your site you want to automatically publish your posts from WordPress to Facebook, you can check out this guide.
As its name suggests, Custom Twitter Feeds lets you display your Twitter feed on your website. This tool offers a wide range of customization options to match it with your website's appearance and it comes in two versions: free and paid. If you just want basic features, the free version is enough but if you're looking for a more powerful plugin, the pro version is a better option. One interesting feature of the premium version is that it allows you to filter content, including tweet replies and visualizing the media in a pop-up lightbox.
Custom Twitter Feeds will help you increase your users' social engagement, improve SEO by embedding content to your site, increase viewers' time on site as they can use Twitter directly from your site, and get more followers.
Other features:
Responsive and optimized for mobile devices
Show tweets from multiple users/hashtags
Show different Twitter feeds in multiple pages or widgets across your website
Built-in shortcodes
Minimize Twitter API requests, which means faster loading
Infinite load option
Customizable built-in "Custom Twitter Feeds" widget
CSS and JavaScript customizations
EmbedSocial is a top social feed plugin for Facebook, Twitter, and Instagram. This plugin has different tools that let you display photos from Facebook, Twitter, and Instagram, embed Facebook and Instagram feeds, and manage reviews from Facebook, Google My Business, and other sources, and embed stories from Instagram.
Other features:
Create a gallery with selected Facebook albums, slideshows, and import albums from your Facebook page
Display Instagram and Twitter albums from a specific username and hashtag
Get reviews from Google My Business and Facebook with a few clicks
Automatic response with a text or a thank-you card to Facebook Reviews
Responsive mode
Set the number of Photos per page, the number of pages, and photo width – dynamic or fixed width.
Order by date – Newest First or Oldest First
Create a story gallery from multiple Instagram stories
The differentiating factor that Curator uses as a premise is that unlike other social media aggregators, it doesn't use IFRAMEs and it lets you embed the stream as Javascript, HTML & CSS into your site. Another advantage is that Curator.io supports a wide range of social media sites such as Facebook, Twitter, Instagram, Vine, Tumblr, Flickr, Pinterest, Google+, YouTube, LinkedIn, and RSS. Besides all these features, it has a particular option that not many other plugins offer: it allows you to edit Instagram posts.
Curator.io has several versions available, from a free one to professional ones for more than USD 200.
More features:
Clean design
SEO-friendly
Hashtag-friendly
Lightweight code
Twine Social is a top plugin that lets you add social media feeds to WordPress that has an amazing advantage over other plugins: advanced analytics! This way, you can find out not only who's using your social hub, but also how they interact with it. This is a great tool to have a better understanding of your audience and engage with them to grow your business.
Twine Social also allows connection to Chromecast, which is excellent for commercial establishments that want to display their social media feed on screens.
Other features:
Supports Facebook, Twitter, Instagram, YouTube, Vine, Flickr, Pinterest, Tumblr, LinkedIn, and RSS.
Organize content by username, hashtag, location, and more.
Set rules and filters to display the content you want
URL expander that extracts titles, headlines, and key photos from social media streams
Embed slices of the social media feed on individual WordPress pages.
Responsive design
Infinite scroll
The user-generated content can be Auto-approved or go to moderation first
Custom CSS
Feeder Ninja is an interesting tool that lets you create RSS and Social media feeds on the go. It currently supports Facebook, Twitter, YouTube, RSS, Pinterest, Tumblr, Vimeo, and WordPress.
This plugin offers both free and paid versions. The main disadvantage of the free one is the lack of options so if you want more flexibility you'll have to purchase the premium versions that start at USD 3.99 per month.
Other features:
Variety of skins, layouts, and customizable colors & styles
Responsive
It's important to note that to use Feeder Ninja, you first need to go to Feeder Ninja, sign up and create a new feed before you can embed it into your site.
With more than 1 billion users, TikTok has become the #1 app for video streaming. So by displaying your TikTok feed on your site, you'll be a step ahead of your competitors.
WP TikTok Feed is the best plugin to display TikTok feeds on your site. This tool is very easy to set up and configure. It caches videos from TikTok and has an optimized API to minimize the requests and reduce loading time. Additionally, WP TikTok Feed comes with a pop-up box that allows the viewers to see your content on your site and many customization options to change the appearance, position, and layout of your TikTok's videos feed.
Another interesting functionality is that by adding a hashtag or username, you can also show videos from a specific category or user.
WP TikTok Feed's main features are:
Responsive design
Very easy to use
Compatible with any theme
Highly customizable
Lightweight code
Shortcode embedding
Max video and column customization
Add social media feeds to WordPress: Final Recommendations
To sum up, adding social media feeds to your WordPress site will increase the interactions and engagement with your audience and help you grow your business. However, once you've added them, remember to work on them and keep them updated.
Besides keeping an eye on updating the social media feeds, make sure that the graphics and style of the feeds you add match your website's look and feel. The idea is that it's something that's part of your website and not something external that you've added.
Finally, take advantage of the analytics both of the plugin and your social networks to optimize your digital strategy. This way you can adjust the content you show to get more interactions and improve your online presence.
These are just some of the best social media feeds plugins that you can add to your WordPress site but there are many more. Do you have any favorite tools? Let us know in the comment section below!