Do you want to add a timeline to your site and tell your audience the story of your business? Then, you're in the right place. In this post, we'll have a look at some of the best timeline plugins for WordPress.
Why you need Timeline Plugins for WordPress?
Simply put, a timeline is a chronicle order of events that provides information about the date of the events, and what they are about. In other words, a timeline is the most effective way to tell the story of your business, its milestones, and past achievements.
Most business brands in the world showcase their history on their websites. And, most times, these story sections are displayed in a timeline format. You can check it yourself. Visit Forbes' list of the 2000 world's largest public companies, pick any brand, and go to their website. For example, I picked Toyota. And here is Toyota Motor's timeline for 75 years of growth and development.
The best way to tell the story of your business is with timeline tools. So, today, we'll have a look at the best timeline plugins for WordPress.
The Best Timeline Plugins for WordPress
The best timeline plugins for WordPress are:
Cool Timeline (Free and Premium)
Timeline Express (Free and Premium)
WP Timeline (Premium)
Timeline and History Slider (Free)
Everest Timeline (Premium)
Content Timeline (Premium)
Post Timeline (Free and Premium)
Let's have a closer look at what each of them has to offer.
1. Cool Timeline
With nearly 8,000 sales and a rating of 4.8/5 in Code Canyon, Cool Timeline is one of the most popular timeline tools for WordPress. Apart from being well-coded, it is also fully responsive, allowing your timeline to perfectly fit any screen type. Moreover, it's super easy to use!. All you need to do is add information such as dates and images and Cool Timeline arranges everything for you. With this tool, you can create beautiful vertical and horizontal timelines.
Pros
Lots of free designs. The Premium version has 20+ designs for the vertical timeline and 15+ for the horizontal one. The free version has 5+ and 1 respectively
Ability to create both and one-sided timelines
Abundant animation effects in the premium version
Pagination in the timeline
Plenty of filter and customization options
Detailed documentation
Cons
The free version offers few templates and options and basic features
Translation ready only for 4 languages (German, French, Indonesian, and Italian)
Price
Cool Timeline is a freemium tool. It has a free version with basic features and a premium one with more functionalities that starts at 25 USD.
2. Timeline Express
If you search for the best timeline plugins for WordPress, you will likely see Timeline Express in the top 3 of every single article. With more than 20,000 active installations and a 4.4/5 rating in the WordPress repository, it's easy to see why. Even though it's free, it offers features that you would expect from a premium tool. For example, you can add multiple events, announcements, or achievements to both vertical and horizontal templates. You can also include animations and custom styling to your timeline to make it unique. And you can choose one of the many options to showcase your timeline.
But what makes Timeline Express stand out from the rest is the powerful extensions. These are primarily features requested by users, which the creator has turned into extensions and add-ons. They vary from HTML Excerpts to Twitter Feed or AJAX Limits.
Pros
Excellent CSS3 Animations
Cross-browser compatibility allows the timeline to be displayed anywhere
You can use Font Awesome icons to make your texts more attractive
Ascending and descending order options
Use shortcodes to easily display the timeline wherever you want
Cons
Some bugs and errors, although not frequent
The support is not highly appreciated and needs further care
Price
Timeline Express is a freemium plugin. It has a free version with basic functionalities and 3 premium plans with more advanced features that start at 29 USD per year.
3. WP Timeline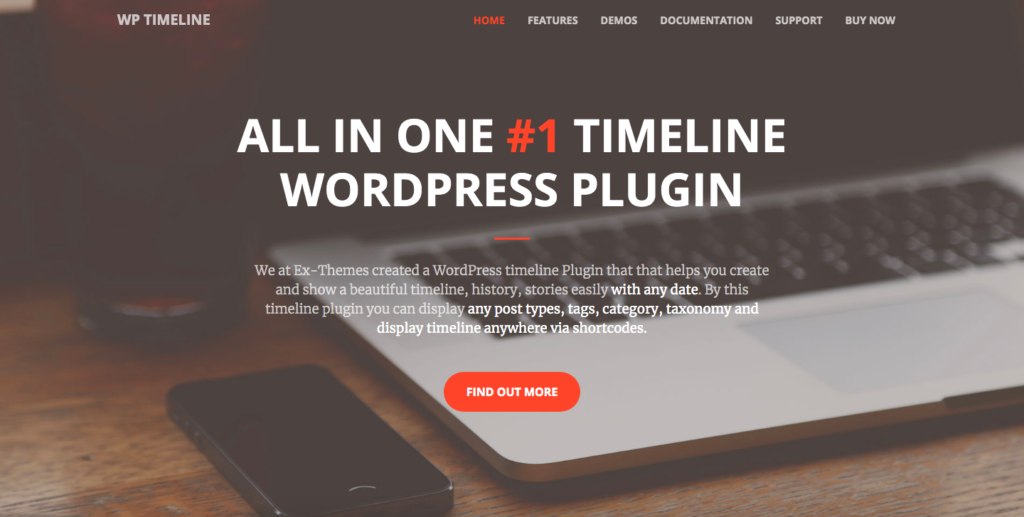 With nearly 3,500 sales and a 4.86/5 rating on CodeCanyon, WP Timeline is one of the top timeline plugins for WordPress. It has everything a timeline tool should have and more, including friendly interface and multi-purposed templates. This is one of the best timeline plugins for customization. It comes with many layouts, features, and personalization options. You can add any BC/AD date, display various post types, tags, categories, and more. And it also supports shortcodes.
WP Timeline has some documentation and video tutorials but it's not the easiest tool to use.
Pros
Long feature list with many awesome functionalities
45+ stunning layouts
40+ animation effects
Visual Composer support
Elementor support
SiteOrigin support
Many more
Cons
Documentation could be improved
Despite its friendly interface, WP Timeline is not very easy to use
Price
WP Timeline is a premium plugin that's available for 25 USD.
4. Timeline and History Slider
As its name suggests, the Timeline and History Slider plugin focuses on making a beautiful history display of your business. Its ease of use is superb, as you can add, edit, and display timelines in a few clicks. This is also one of a few timeline plugins for WordPress that focuses on creating and modifying a horizontal timeline instead of a vertical one. So, you should consider that before buying it.
Another strong point of Timeline and History Slider is its navigation. When visitors view your timeline, they just need to hover their mouse over it and use the arrow keys for navigation.
Pros
Multiple shortcodes and parameters to use with shortcodes
Fully responsive which enables excellent display on any screen type
Touch-enabled navigation
Gutenberg block support
Cons
Several options are reported to contain errors
This plugin works with new posts only, so you can't create a timeline from data that already exists
Price
Timeline and History Slider is 100% free.
5. Everest Timeline
Everest Timeline is the perfect WordPress timeline plugin for those who want many templates. This tool comes with more than 50 pre-built templates to serve whatever purpose you have in mind. Moreover, each template comes with multiple styling and customization options. Besides, Everest Timeline has a lot of demos so you can see in advance what they will look like.
Another great thing about Everest Timeline is that it stays very up-to-date! It integrates with many trendy layouts, such as Facebook or Twitter so you can add some fun to your standard timeline.
Pros
Several demos such as vertical and horizontal layouts demo, a demo for pagination, filter, carousel, navigation bar, and more.
Shortcode and widget ready
Multiple media support including images, slider, YouTube, Vimeo, HTML video, and SoundCloud
Social media and share button integration
Lightbox functionality
Cons
Support isn't as quick as expected
Lack of clear guidance for some functionalities
Price
Everest Timeline is a premium plugin that's available in CodeCanyon for 18 USD.
6. Content Timeline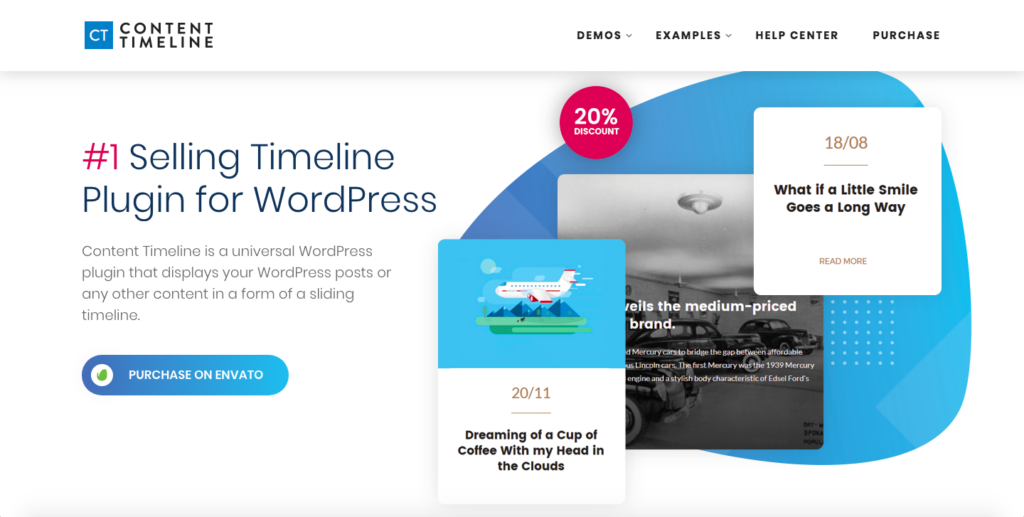 Having been featured on many popular sites, Content Timeline can be a fierce rival for the WordPress timeline plugins listed above. It is very lightweight and responsive and offers full customization and easy implementation features.
However, what I like most about the Content Timeline is the slider that allows a super smooth transition and vivid content. This provides users with a great experience improving user satisfaction.
Pros
Fully responsive design
Ability to hide controls, timeline, and dates
50+ settings for customization
Possibility to rename elements as you wish
Cons
Features are not outstanding, so the price is a bit high for what it offers
The vertical version is still in the test phase and hence errors may happen
Price
Content Timeline is a premium tool that starts at 30 USD.
7. Post Timeline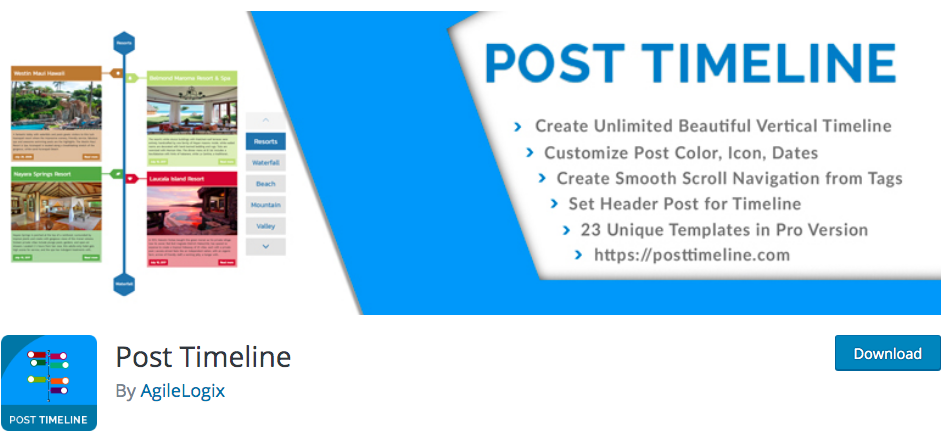 Finally, the last place in our list of the best timeline plugins for WordPress is for Post Timeline. This tool focuses on creating vertical timelines, so it's best for those who just want this kind of timeline. Since it concentrates on vertical timelines, all of its features are designed to support them and work extremely well. For example, you can create unlimited vertical timelines, there are 23 templates and 5 different navigation styles.
Post Timeline also helps you set colors, assign icons, and carry out multiple other styling options for the timelines you've created. And it includes animated scroll navigation. Finally, one of the best things about this tool is the multi-languages readiness. Even premium plugins sometimes miss out on this feature, but Post Timeline includes it.
Pros
Unlimited free vertical timelines
Auto-create navigation from tags with beautiful animations
The ability to separate timelines by Category ID
Responsive and wonderful UI
Pro version with many more awesome features.
Cons
Horizontal timeline available only in the pro version
Some small errors and bugs.
Price
Post Timeline is a freemium tool. It has a free version with basic features and a pro one that starts at 24 USD.
Which WordPress Timeline Plugins should you choose?
In conclusion, timeline plugins are great to tell the story of your business and highlight the most important milestones and dates. And the most effective way to add them to your WordPress site is with timeline plugins.
So, which tool should you choose? All these hand-picked add-ons are built with the user in mind, so they are well-coded, feature-rich, and easy-to-use. Before deciding, bear in mind these must-have factors:
It must be fully responsive so that your timelines are beautifully displayed on any type of screen (desktop, tablet, and mobile phone).
It should offer a wide variety of templates and customization options. The more choices you have, the better timelines you can create.
Look thoroughly at your personal needs before making a decision.
Check out the demos and the free versions before purchasing anything.
For example, Cool Timeline and Timeline Express are good choices if you want a feature-rich timeline. Additionally, they both have free versions so you can test them out before spending any money. If, on the other hand, you have some coding skills, WP Timeline is the best choice for you. It might take some time to master it at first, but its features are worth the effort. Finally, if you're only interested in a vertical timeline, then Post Timeline is a good option.
So, what is your pick? What other tools should we include on our list? For more information about WordPress and WooCommerce plugins, check out our blog.