A few days back, one of our users asked us which were the best WhatsApp chat plugins for WooCommerce. If you're looking for the same thing, this post is for you.
We all know that lead generation can be done using pop-ups. However, nowadays there are better ways. With more than 1.5 billion monthly active users, WhatsApp is the most popular messaging app in the world. So why don't you integrate this app with your store to talk with your users and generate more leads?
Why do you need to generate Leads?
If you want your business to succeed, you need to generate leads to have more clients and grow. Additionally, if you're running an online shop where you sell products or services when someone wants to buy something, sometimes they'll want to contact you and ask you something about that item/service.
If you're smart and take that opportunity, when the shoppers write to you, you could save their email address and add it to your email list, offer them discount coupons, recommend blog posts and so on. This way, they'll receive a great experience and they'll become loyal customers.
To do this, you could use pop-ups or you could go a step further and use WhatsApp chat plugins. There are several WhatsApp plugins that you can use to generate more leads and increase your sales! So if you have an online business and you want to start using a WhatsApp chat plugin, we have got your back!
Why use WhatsApp Chat Plugins?
Nowadays, shoppers buy online because it's fast and easy. And if they have questions, they want answers fast. They don't want to fill in a contact form and wait hours or even days for a reply.
It's already hard to make visitors come to your site, so when they do you should make the most of that opportunity. That's why, instead of a contact form, it's better to provide them with live chat customer support. That way, your visitors will get instant replies and you'll increase your conversions.
So if you want to improve your customer experience and boost your sales, WhatsApp chat plugins are for you!
In this post, we'll show you the top 8 WhatsApp chat plugins for WordPress.
The Best WhatsApp Chat Plugins For WordPress
There are many good tools out there. However, these ones are a step ahead of the rest. The best WhatsApp chat plugins for WordPress are:
WhatsApp Chat WP
WordPress WhatsApp Support
WhatsApp Contact Chat
WP WhatsApp Button
WhatsApp Click to Chat
WhatsApp Contact Button
Social Tabs Live Chat for WordPress
Cresta WhatsApp Chat
Now, let's have a look at what each one of them has to offer.
1. WhatsApp Chat WP
WhatsApp Chat WP is a freemium plugin created by QuadLayers, the same developer who created the famous QuadMenu – the WordPress mega menu plugin.
To date, there are more than 30,000 active installations. Additionally, they add new features on every new update making it one of the best plugins out there.
The free version covers the basic features and it's a good option for small businesses. For more advanced features, you may want to consider purchasing the premium WhatsApp chat plugin that starts at $15 (one-time payment).
For support and assistance, you can contact them on their live chat, create a support ticket, post on the plugin's support forum or contact them on their Facebook page.
2. WordPress WhatsApp Support
WordPress WhatsApp Support is a top WooCommerce plugin that you can download from CodeCanyon for $17. It's highly customizable and it comes with pre-made templates. On top of that, you'll be able to create custom templates from scratch.
Finally, it is a multilingual plugin that comes in 10 different languages making it a good choice for stores with international clients.
3. WhatsApp Contact Chat
WhatsApp Contact Chat is one of the best WhatsApp chat plugins for WordPress. You buy it from CodeCanyon for $17 if you want a regular license, or for $67 if you're looking for an extended license.
This addon comes with pre-made templates that will help you get started quickly. Besides, the settings are easy to use even for beginners.
This plugin lets you add multiple WhatsApp accounts to the settings, have complete control over the chatbox, and change the button and box of the chatbox without any additional CSS coding.
4. WP WhatsApp Button
WP WhatsApp Button is another premium plugin for WordPress that starts at $10 for a regular license.
The customization is pretty simple and there are 8 different positions available. This plugin works with most of the themes and lets you place the chatbox anywhere you want on your site.
Additionally, you can show a chatbox using shortcodes which makes the embedding very easy. For example, let's say you want to add a chatbox in any of your widget areas. Simply add a text widget to your widget area and paste the shortcode. That's it!
5. WhatsApp Click to Chat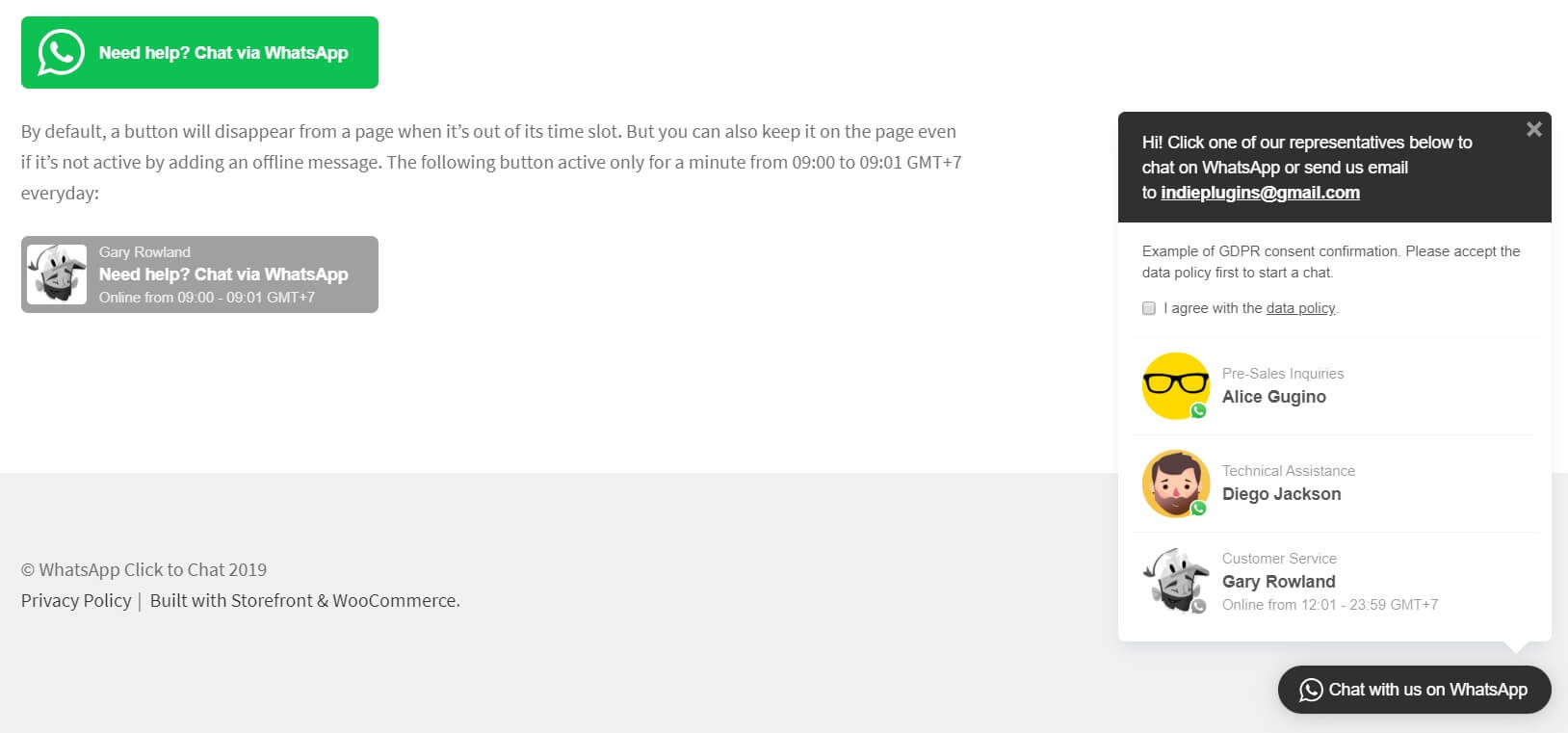 WhatsApp Click to Chat is an interesting WooCommerce plugin that starts at $19 for a regular license and $70 for an extended license. You can set support hours according to the time and day of the week and also set multiple WhatsApp accounts.
Some of its features are page targeting, color customization, integration with Google Analytics, and integration with Facebook Pixels. It also offers options with shortcodes and it allows you to show the box according to the user's scroll length, inactivity, etc.
6. WhatsApp Contact Button
WhatsApp Contact Button is a great plugin developed by web-cude. They have released an updated version with a fantastic user interface, customizable style of button and popup window, and 8 animation effects making it one of the best WhatsApp chat plugins.
This tool also offers shortcode support, cross-browser support, and it's compatible with any theme.
7. Social Tabs Live Chat For WordPress
Even though Social Tabs Live Chat for WordPress isn't a dedicated chat plugin for WhatsApp, it lets you implement Skype, WhatsApp, Facebook, Viber or SMS chat. It starts at $21 but if you want an extended license, you'll have to spend $75.
Finally, the best about this plugin is that it doesn't require setup, it gives you an unlimited history of chat and unlimited bandwidth.
8. Cresta WhatsApp Chat

Cresta WhatsApp Chat (or Cresta Help Chat) is a freemium plugin that you can download from the WordPress plugin repository. Currently, there are more than 3,000 active installations.
It's worth noting that the free version of this plugin has some limitations. There's also a premium version that starts at 10€ (nearly $12) with some advanced features such as more customization options, WhatsApp chat widget, and animation options.
Do you want more information about this plugin? Check out our guide about Cresta WhatsApp Chat.
Which WhatsApp chat plugin should I use?
All the plugins on this list are excellent options. However, if you're a beginner, we recommend you check out the WhatsApp Chat WP plugin. It has a ton of cool features, it's compatible with the latest version of WordPress, and it's free.
If you think you need more advanced features, you can also upgrade and get the pro version for just $15.
Conclusion
All in all, if you want to grow your business, you need to generate more leads. Even though you could do that with pop-ups, if you use the best WhatsApp chat plugins you'll be a step ahead of your competitors and you'll increase your sales. Did you find this post helpful? Please share it with your friends and fellow bloggers on social media.
For more related posts, check out the best lead generation plugins!