Best WooCommerce Quick Purchase Button Plugins For WordPress
In a WooCommerce website, most people prefer to use the instant purchasing buttons or link. This is the reason why adding a quick purchase button for individual products is a good practice for the WooCommerce webmasters.
Well, if your WooCommerce store is powered by WordPress then adding the quick purchase button becomes easier. Guess why! yes, you already know about it, because of multiple plugins available for WordPress the burden of coding and technical configurations decrease a lot.
In this post, we went on with multiple options to help you find the best quick purchase plugin for your online store. But before we dig into that list let's quickly run through what is the quick purchase button and how it looks like.
Why you should use a quick purchase button!
The reason we use a quick purchase button is to let customers/users bypass some extra steps of the checkout process such as:
Add items to cart
Go to the cart page
Then go for the checkout page
These steps seems so time consuming for the modern-day users. So the advantage of using a quick buy button is the customers can be redirected to the checkout page directly from the product page and let them complete the process immediately.
Study says that 53.7% of people like to use quick buy links rather than adding the products to their carts, so using a quick purchase button will bring a great advantage to your shop. This will increase your store's sales per click and monthly total sales as well.
A good example of using the quick buy button (by amazon) is:
So – whenever possible, try to use a WooCommerce quick buy plugin (for WordPress) that let you add a button along with other dynamic features – all the plugins I have added on this list use that approach.
1. WooCommerce Direct Checkout – Quadlayers
WooCommerce Direct Checkout is a premium plugin developed by Quadlayers specifically to simplify the checkout process. The primary aim of this plugin is to let you add direct checkout button/link and inside the checkout page you can show the cart of the customer + payment options and alert it via ajax module as well.
The plugin provides a nice user interface along with a clean and organized design which let shoppers easily understand how to go to the purchasing page and complete the checkout. You can add the quick buy link on:
Individual Product Page
Product Catalog (Lightbox view of the products are enabled)
It completely depends upon you whether you want to add the quick buy button in product page and catalog page or in both because the plugin provides you full customization ability. With this plugin webmasters get full advantage of choosing the preferred method + adding dynamic controls for the user end on the setting dashboard of the plugin.
Key Features:
This plugin simplifies the purchasing process by making it direct, fast and reliable. The key points that keep this plugin above others similer plugins are:
Dynamic settings of the plugin
Multiple payment methods
Coupon configuration for checkout page
Fast and smooth experience
Less server resource consumption
In the backend, the plugin settings look like this:
Price and details:
Along with great features for a WooCommerece purchasing, the plugin comes with four different plans. It has free, personal, agency and developer plans range between $0 to $40 which is pretty much affordable. Although the free version doesn't support quick purchase buttons it works great with your online shop. However, choosing a premium plan will benefit you with the quick buy buttton + more sales and a good experience for the users.
Check Direct Checkout by Quadlayers
---
2.Quick Buy For WooCommerce
Quick buy is another great plugin developed by "Varun Sridharan" for adding direct purchasing buttons into your shop. This plugin does the same job as Direct WooCommerece to redirect the user to checkout/cart immediately when he click the quick buy button. The plugin is available in the WordPress repository and you can install it directly for free.

In terms of the design of the product page, it does a pretty good job but the placement of the quick buy button doesn't feel nice. Whenever I tried to add the button in product page it doesn't align equally with the "Add to Cart" button, which feels something mixed and not effective for engagement. But yes, it functions well and if you don't care about a nice & organized design "Quick Buy plugin" can help your job done.
This plugin supports nine different types of products which can be configured with WooCommerece WordPress plugin. Good news is that Quick Buy Plugin supports shortcodes which allow you to use the module in any customizable zone of your shop. Moreover, the plugin supports multiple languages which are another advantage.
Key Features:
The primary features of the quick buy plugins are:
Important settings for product page
Button internal style and customization
Multiple add-on support
Multilingual configuration (Need developer help)
The backend configurations of this plugin appear like this:
Price and details:
Quick buy plugin is a free plugin and doesn't have any premium version of it. You can find the plugin in the link given below.
---
3. Quick Checkouts – Amplify Plugins
Quick checkout is another premium plugin which provides a smooth direct checkout process and takes your WooCommerece store to the next level. You can actually experience great features like landing page integration with quick checkout button, quantity adjustment ability for products which is rare in case of other mentioned plugins here.
Like WooCommerece direct checkout plugin, this plugin does offer lightbox checkout, catalog checkout, on-page checkout features which is a decent step taken by its developers. You can also integrate subscription and gravity form along with the quick checkout page. This plugin makes it really easy for your visitors to sign up for your subscription offering.
Key Features:
Some of the remarkable features of this plugin are,
Very easy to understand landing page configuration
Shortcode support
Fast and lightweight
Product quantity control
Ability to inherit theme design
Multiple WooCommerece extension support
When the plugin is installed your quick checkout will look something like this: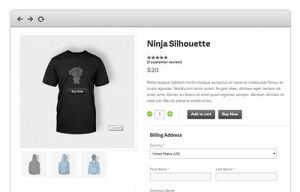 Price And Details:
This plugin which is designed to add quick purchase button on your WooCommerece shop comes with thee different plans named as Single, Plus and Ultimate. The price of these plans range between $76 to $299 which may sometimes look expensive just for a quick checkout integration plugin. However, it depends on your investment budget and I believe the features it offers worth its price.
In my opinion, the "direct checkout plugin by Quadlayers" offers better options in a comparatively lower price and also support multiple shopping sites in a single plan (agency and developer) as well.
---
4. WooCommerece Buy Now
Coming to the next plugin, we have "WooCommerece buy now plugin" for WordPress based shopping website. This is developed by Storeapps.org and offers some nice features to add in a quick purchase button and it's checkout page. It allows you to make the checkout process easy and smooth + you can easily integrate payment gateways like Stripe, Braintree, and auth.net.
The payment gateway doesn't limit the features of this plugin. It also allows you to set coupons, configure product categories, introduce shipping methods and two-step quick purchase process. You can also add a custom name to your "Quick Purchase Button" and set up its behaviors as well. In the end, the two-step quick purchase method is something very unique available in it.
Key Features:
Billing and shipping address auto filing
Quick payment with Stripe, Braintree, Auth.net
Two-step purchasing module.
Coupon configuration for product
Add selectable shipping methods
Inside the settings panel, you can find all the options in a single page. So, even though it doesn't offer a lot of configuration options handling the basic settings are very easy. This plugin is compatible with WooCommerece plugin so the quick buy settings are available inside the WooCommerece settings.
Price And Details:
The price plans of this plugin are little different than the other plugins that I have mentioned in this list. It has two different versions of every plan:
Annual
Lifetime
… and the actual plans are classified into three categories, personal (for 1 website), Business (for 5 websites) and Agency (25 different websites). The price range of these plans lies between $49 to $199. In terms of pricing, I think this plugin has done a better job than others as it let you choose from a wide variety of options. As long as you own a single website and want specific features of this plugin you can go for the personal plan because it provides good value to the customers.
Check WooCommerece Buy Now Plugin
---
5. WooCommerece Quick Buy
WooCommerece quick buy is another powerful plugin which reduces the standard 4 click purchase method into one click. Like the other four plugins, it's one-click button adds the product directly to basket and automatically switches to the payment page. This is a premium plugin available in Codecanyon.com with various customization option.
This plugin provides you numerous options to design your quick buy button including shortcode use, custom button text, custom button positions, Icon use, and different pre-designed styles. Ability to change icon color depending on your theme default color gives an extra benefit from using Quick Buy plugin.
With "Quick Buy" plugin you can easily add different types of products into your store and showcase them along with attractive quick buy button. At the same time, we really wish to select the quantity of the product which we are going to purchase that's why having a product counter near the quick purchase button is very essential. This plugin does this job quite nicely.
Moreover, you can manually design the quick buy buttons and checkout page. The design can be used in the product catalog, individual checkout page, and lightbox checkout pages. If you want you can also create an instant pop up notification for the users along with a quick buy button which can increase the sales ratio of the product.
Key Features:
Compatible with every products type
No change made or updated in the product page
The desired variation can be selected
ShortCodes can be generated and used as well
Display quick buy buttons with popup
With CSS support, you can inherit the theme design for the button.
The settings are available in backend and front end i.e you can configure the core settings of the plugin either way. If you find it difficult to configure the backend settings then you can immediately start using the front end editor which is easier to arrange the quick buy buttons with products. Thanks to the developers for keeping it simple and effective + enabling the users to keep track of the changes of the in real-time.
Price and details:
Quick Buy plugin offers two different price plans which you can find in the Envato market. The regular license costs $12 which comes with all the required features to set up a quick purchase button. Under this license, you can use the plugin for yourself or one of your client. This license excludes the pre-designed templates and features available for sold products.
On the other hand, the extended license costs $40 which covers the sold product features and pre-made template along with other standard features. So far, in my opinion, the regular license should fill your demands without any problem if the pre-designed button templates don't matter a lot or you can go for the extended license instead.
Check WooCommerece Quick Buy Plugin
---
Final Words:
Great… So in this list, I have mentioned five plugins for crafting your quick purchase link or button to build a better e-commerce store. By looking at these awesome plugins you can see how they are providing you great support in terms of delivering an efficient user experience + helping your site for getting more impression and ultimately generating more sales.
Whether you are using WordPress or another software to build your e-store, quick buy button indeed is a great element that should present near a product. It's great to know if your site is based on WordPress but make sure to use any one of these plugins which suits your needs best.
Additional note: The developers of these plugin update their modules frequently so make sure to re-check the features by yourself before purchasing or using any one of them. I hope this list will certainly help you and let me know your thoughts in the comment box below.