Best WooCommerce Quick Buy Button Plugins For 2020
In an era where users want everything fast, an eCommerce store must have an instant purchasing button or link. This is why adding a WooCommerce quick buy button can be a game-changer to take your online store to the next level.
If your WooCommerce store is powered by WordPress, adding a quick purchase button is an easy task. There are several excellent plugins available that take the burden off coding and technical configurations.
To better understand what a quick buy plugin can do for your site, let's see what it is and why you should use it.
Why should you use a WooCommerce quick buy button?
A quick purchase button allows your customers to bypass some extra steps of the checkout process such as:
Adding items to the cart
Going to the cart page
Going through the checkout page.
Adding these steps can strongly affect your conversion rate because customers could drop off at any stage of the funnel. Modern-day users want to buy quickly and easily so with a quick buy button shoppers will be redirected directly from the product page to the checkout. This way, they'll be able to complete the purchase avoiding unnecessary extra steps.
Most of the big players in e-commerce such as Amazon or Aliexpress offer the possibility to purchase in 1 or 2 clicks with a quick buy button. Not only does it reduce the drops at each stage of the funnel but it also increases your store's sales.
So to improve conversion rate and sales on your website, a WooCommerce quick buy plugin for WordPress is your best friend.
NOTE: There are three ways to add a quick buy button in WordPress. With a plugin, coding it yourself, and with shortcodes. In this post, we'll focus on the add-ons but if you want to know more about the other methods, we recommend you check out this guide.
Best WooCommerce quick buy plugins
We already saw how to increase conversion rate so, in this post, we'll have a look at some of the most popular options out there to help you find the best quick buy plugin for your online store.
1. WooCommerce Direct Checkout
WooCommerce Direct Checkout by Quadlayers is a premium plugin developed specifically to simplify the checkout process. It lets you add a button/link that takes the user from the product page directly to the checkout, where it shows the cart and the payment options.
The plugin has a friendly user interface along with a clean design that easily guides shoppers to the purchasing page to complete the checkout. WooCommerce Direct Checkout allows you to add the quick buy link on:
An individual product page
A product catalog (lightbox view of the products is enabled).
Additionally, this addon lets webmasters add dynamic controls for the end-user on the settings dashboard of the plugin.
Key Features
WooCommerce Direct Checkout simplifies the purchasing process by making it direct, fast, and reliable. The key points that make it stand out from similar plugins are:
Dynamic settings
Multiple payment methods
Coupon configuration for checkout page
Fast and smooth experience
Reduced server resource consumption
Ajax add to cart alert.
Besides all these features, the backend of this tool has a clean design as shown below:
Price and details
Along with very useful features for a WooCommerece site, the plugin comes with four different plans:
Free
Personal – 15 USD (1 site)
Agency – 30 USD (5 sites)
Developer – 60 USD (unlimited sites)
It's worth noting that the free version doesn't support quick buy buttons. However, the premium plans are affordable and include the purchase buy button so they're definitely worth the money.
Check WooCommerce Direct Checkout by Quadlayers.
2. Quick Buy For WooCommerce
Quick Buy is another great tool for WordPress developed by Varun Sridharan that lets you add direct-purchase buttons onto your site. Similarly to WooCommerce Direct, it redirects the user from the product page to the checkout page.

In terms of design, this addon has an attractive product page. However, the placement of the quick buy button isn't optimal. Whenever we have tried to add the button on the product page, it doesn't align with the Add to Cart button which isn't effective for engagement.
In terms of functionalities, it gets the job done smoothly and it has a good performance. It also supports shortcodes that allow customization and it's available in multiple languages.
Key Features
The primary features of Quick Buy are:
Several options for settings on the product page
Multiple add-on support
Multilingual configuration
Unlimited number of ShortCodes
Button customization
Price and details
Quick Buy is free and doesn't have a premium version.
Check Quick Buy For WooCommerce.
The backend configuration of this plugin looks like this:
3. Quick Checkouts – Amplify Plugins
Quick Checkout is one of the best WooCommerce quick buy button plugins. It provides a smooth direct checkout process to take your store to the next level.
Some of its main distinctive features are the on-page check out for landing pages and the possibility to adjust quantities in the checkout to reduce hassle.
Similarly to WooCommerce, this addon offers a lightbox, catalog, and on-page checkout. There's also the possibility to integrate subscription and Gravity Forms along with the quick checkout page.
Key Features
Some remarkable features of this plugin are:
Clear landing page configuration
Shortcode support
Fast and lightweight
Product quantity control
Ability to inherit theme design
Multiple WooCommerce extension support.
When the tool is installed, your quick checkout will look something like this: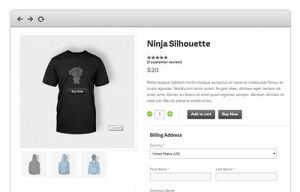 Price and Details
This plugin comes in three different plans:
Single – 76 USD per year (1 site)
Plus – 149 per year (5 sites)
Ultimate – 299 USD per year (15 sites)
To sum up, Quick Checkout is also a very good choice if you're looking for a WooCommerce quick purchase button plugin with many features. However, that comes at a price as this tool isn't cheap.
4. WooCommerce Buy Now
WooCommerce Buy Now for WordPress by Storeapps.org makes the checkout process easy and smooth. It also lets you easily integrate payment gateways such as Stripe, Braintree, and Auth.net.
Additionally, it allows you to set coupons, configure product categories, introduce shipping methods, establish a quick two-step purchase process, customize the Quick Purchase Button, and set up its behaviors as well.
Key Features
Billing and shipping address auto-filling
Quick payment with Stripe, Braintree, Auth.net
Two-step purchasing module
Coupon configuration
Add selectable shipping methods.
This plugin doesn't offer many configuration options but it's easy to manage and set up. It's compatible with WooCommerce so the quick buy settings are available inside the WooCommerce settings.
Price and Details
This plugin has the following price plans:
Annual

Personal

(1 site) – 49 USD

Business

(up to 5 sites) – 99 USD

Agency

(up to 25 sites) – 199 USD

Lifetime

Personal

(1 site) – 149 USD

Business

(up to 5 sites) – 299 USD

Agency

(up to 25 sites) – 599 USD
In terms of pricing, it offers interesting alternatives and good value for money.
5. WooCommerce Quick Buy
WooCommerce Quick Buy by Codecanyon.com is another powerful plugin that reduces the standard 4-click purchase method to only 1 click. Similar to the previous alternatives, it allows you to add a product to a basket and go to the payment page in one click.
Additionally, this tool comes with numerous options to design your quick buy buttons such as shortcodes, custom button text, custom button positions, custom icon color, icon use, and different pre-designed styles.
WooCommerce Quick Buy lets you add different types of products into your store and showcase them along with an attractive quick buy button.
An interesting option is to manually design your quick purchase buttons and checkout page, as well as create an instant pop up notification for the users and a quick buy button to increase the sales ratio on your website.
Key Features
Compatible with every product type.
Customized quick buttons and checkout page.
Popup notifications.
With CSS support, you can inherit the theme design for the button.
The settings are available both in the backend and front end enabling users to adjust the design easily.
Price and details
WooCommerce Quick Buy plugin offers two different price plans:
A regular license – 12 USD (1 site). This plan excludes the pre-designed templates and features available for sold products.
An extended license – 40 USD, comes with the standard features, and also adds the sold product features and pre-made templates.
Unless you're looking for a premium product or want pre-designed button templates, the regular license has got you covered.
Conclusion
To sum up, nowadays a quick buy button is a must for any eCommerce site. There are many options out there but not all of them are equally effective. These are five of the best WooCommerce plugins for crafting your quick buy button and improving your store. This way you'll provide better user experience, you'll have a higher conversion rate and increase more sales.
You can also add a quick purchase button to your site programmatically or using shortcodes. Check out our guide on how to add a quick buy button in WooCommerce for more information.
So which one should you choose? That depends on the type of store you have and the features you're looking for. WooCommerce Direct Checkout is our top pick because it's a great all-rounder and offers excellent value for money. However, any of these tools are superb choices.
Note: These plugins receive frequent updates so make sure to keep an eye on them to be up-to-date about the latest releases.
Related posts: