Best WooCommerce SMS Plugins – Top 6
Are you looking for the best WooCommerce SMS plugins? WooCommerce is an excellent tool for creating stunning online physical or digital stores. WooCommerce stores are easy to make and manage. However, if you plan to improve customer service, you should try adding an SMS plugin and integrating it with the store. To help you with this, we will show you some of the famous and best WooCommerce SMS plugins in the market.
But before that, let's see what an SMS gateway is and why it is important to send SMS notifications to your customers about their orders. Let's find out.
What is an SMS Gateway?
An SMS gateway will act like a bridge between your website/mobile app and the customer. It will help you send individual messages or bulk texts to your customer's phone number.
The SMS gateway will convert the messages sent from the web into a customer-readable format and deliver them to the recipient. Since it handles everything itself, you do not need to send individual messages manually.
According to your web configuration options, most gateways can automate tasks and deliver SMSs based on various conditions. For example, if you have configured sending out SMS to customers when there is a change in the order status, the SMS plugin you use will communicate with the gateway back and forth.
When the store owner changes the order's status, the plugin will notify the gateway, and the gateway will inform the customer regarding the same. In recent days, SMS gateways have gained many users, becoming an essential part of the WooCommerce industry, similar to email marketing tools.
There are so many SMS gateways available in the market. When you choose one service, you have to ensure checking these things:
Pricing
Service
Reliability
Limitations
Ease of use
and so on.
Most SMS gateways will charge you according to the monthly quote, so you can calculate the expenses according to the store's size or the messages you plan to send monthly.
Importance of Sending SMS Notifications to Customers
The main advantage of sending SMS notifications to customers is they do not need to log in to the WooCommerce store every time to check the status of recent orders. Since the store admin lets them know every update through SMS, they will get everything they need to know about the order on their mobile phone.
Also, most customers prefer receiving SMS notifications regarding orders. So, this can help you improve the customer experience on the WooCommerce store.
Benefits of Using WooCommerce SMS Plugins
WordPress is a popular CMS, and it is used by more than 40% of websites. The best thing about WordPress is the vast library of plugins that can help you enhance the features and add more functionality to your website.
Likewise, WooCommerce SMS plugins will help the store owner to configure the gateways, send out custom SMSs, manage bulk messaging, SMS scheduling, and so on. Without touching any codes or editing the template files, you can integrate any SMS gateway you need with the help of custom API keys.
When you use a WooCommerce SMS plugin, you do not need to use any third-party tools. And, of course, you can manage everything right from your WooCommerce dashboard, which is very convenient in most cases.
So, that was all about sending SMS to your customers for any updates. Now, let's see some of the best WooCommerce SMS plugins available.
Best WooCommerce SMS Plugins
Below, we will list some of the top WooCommerce SMS plugins on the market. They are:
SMS for WooCommerce
YITH WooCommerce SMS Notifications
WP SMS
WP Notif
BulkGate SMS
We will be explaining what each plugin has to offer. So, according to your requirements and preferences, you can choose a tool.
Without any further ado, let's get started.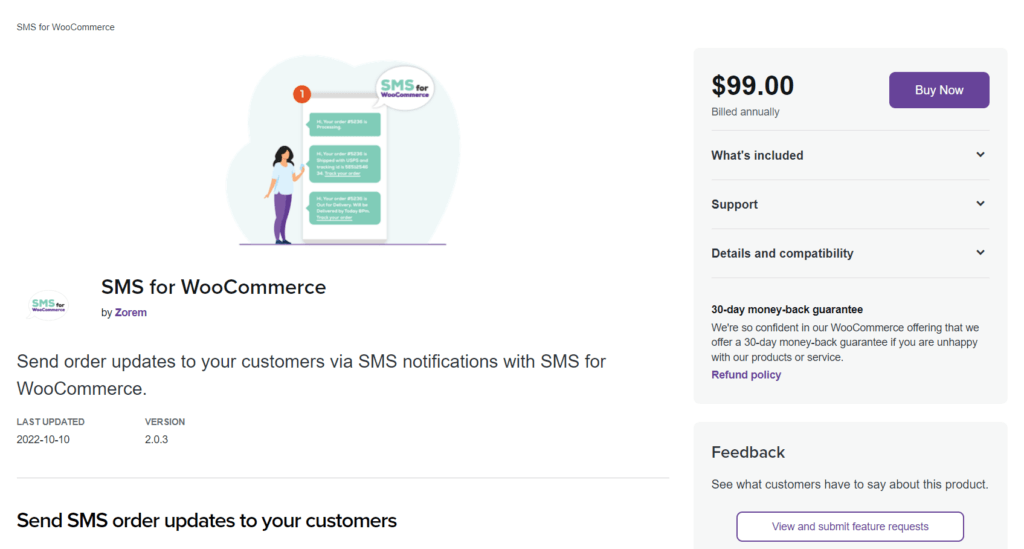 If you prefer using an official SMS  plugin for whatever reason, you should download SMS for WooCommerce by WooCommerce itself.
The plugin supports integrations with multiple SMS gateways, so you can easily switch to any SMS service provider you want. Some popular SMS gateways they support are Nexmo, Twilio, Fast2sms, SMSAlert, ClickSend, and so on. On top of that, the tool can also be integrated with WhatsApp Business.
To prevent spam and protect your store from fake phone numbers, SMS for WooCommerce comes with a phone number validation feature. Using this feature, the store owner can eliminate maximum spam phone numbers from the directory. Right now, only Nexmo and Twilio supports this feature.
Moreover, from the checkout page, customers can choose if they want to get the SMS notification or not. This is an excellent feature since customers who don't need to get every order update via SMS can easily opt out and complete the purchase.
The SMS content can be personalized from the plugin's settings page. This can be a helpful feature if you need to add custom details and personalize them with your brand name. In addition, once you have activated and configured the plugin, it will automatically send every order status to the customer. Another helpful feature the plugin has is the Do Not Disturb mode. By enabling this, you can select a timeframe to send messages out.
Features
Integrated with multiple gateways
Custom opt-in box for SMS notifications
Customer phone number validation
Automatic order status SMS notifications
Personalization
Pricing
SMS for WooCommerce is a premium WordPress plugin. You can purchase it from the official WooCommerce website. It will cost you $99 a year for the premium subscription. On top of that, their 30-day money-back guarantee can be beneficial if you are unhappy with the plugin.
If you prefer an SMS plugin from a reputed brand that delivers top-quality WooCommerce products, you should check out YITH WooCommerce SMS Notifications. YITH WooCommerce SMS Notifications offers integration with more than 20 SMS gateway services. The main advantage of the plugin is the easy-to-use interface with minimal setups and clutter.
Moreover, by using any WordPress translation plugin like Weglot, WPML, or Polylang, you can translate the content and make it multilingual. Multilingual options will be handy if you offer worldwide service or shipping. In addition, it will help you to get more clients and generate more revenue from the site.
Apart from that, the plugin will automatically send SMS to customers according to order changes. But, if you want to send personalized emails to individual customers, that's also possible via the order page. By default, there is a word limit of 160, but from the plugin's settings, you can modify the maximum word count per message.
Lastly, the tool is compatible with most WooCommerce plugins and related tools. So, there will be no compatibility issues by using this plugin on your WooCommerce store.
Features
Easy to use
Automatic SMS notifications according to order change
Compatible with most YITH and other plugins
Extend the length of single SMS
SMS body customization
Pricing
YITH WooCommerce SMS notifications is a premium WordPress plugin. The subscription will cost you $69.99 annually, and the 30-day money-back guarantee protects you.
When your main goal is to have a ton of SMS integrations, WP SMS can be a good choice.
WP SMS can be integrated with 250+ SMS gateways, ensuring you can use the plugin with any SMS gateway of your choice. Since the tool offers an easy configuration wizard, non-tech-savvy persons can easily configure the tool with some simple mouse clicks.
Another advantage of the tool is that it can be used sitewide, not just for WooCommerce integration—the tool is an excellent addition to membership sites, regular blogs, and more.
Moreover, WordPress developers can use custom hooks to enhance the plugin's features. This can be very useful if you need to bring a unique feature to the plugin. They also have a dedicated documentation section to teach how it works with some references.
Besides customers, the plugin can notify the site administrators, too, based on various conditions. Some conditions are WordPress releases a new version, new user registration, user logging in, new comments, and so on.
Another good integration you can get with WP SMS is the Bitly integration. Everyone knows Bitly as one of the popular link-shortening services. By integrating your Bitly account, you can convert your long URLs in the message with short ones. This will help the store owner reduce the message's size, and most customers will find it helpful.
Features
250+ SMS gateway integrations
Import/Export subscribers
WordPress hooks compatible
Admin SMS notifications
Bitly integration
Pricing
WP SMS is a freemium WordPress plugin. You can download the lite version from the WordPress plugins repository. The premium subscription will cost you $60 a year for a single website license. Additionally, you are covered under a 14-day money-back guarantee in case you aren't satisfied with the plugin.
If you need a plugin that can handle both SMS and WhatsApp messages, WPNotif is the one tool you need to use. It comes with excellent features every WooCommerce store needs.
Besides SMS integration, WhatsApp business integration is another cool feature. Most people use WhatsApp for communicating, so by sending out order messages to the client's WhatsApp number, you can expect a better delivery rate than SMS.
Message scheduling is another fantastic feature offered by WPNotif, allowing you to send out SMS to customers on a specific date or time regarding a limited-time deal or anything similar. All the messages can be customized from the dashboard, so you do not need to use any extra tools. Furthermore, you can have unlimited scheduled campaigns inside the settings. Also, you can send SMS to your customers whenever you publish a new blog post.
Moreover, with WPNotif, the site admins can also get an SMS notification when some user submits a contact form. WPNotif can be integrated with Contact Form 7, Gravity Forms, and Elementor Forms. The tool is translation-ready, too, so multilingual websites won't face any problems with WPNotif.
Features
Multime Gateways to Integrate
WhatsApp Integration
Message Scheduling
New post notifications
Contact form notifications
Pricing
WPNotif is a premium WordPress plugin. It is available in the CodeCanyon marketplace, costing $34. Each purchase comes with future updates and six months of support. By paying an additional $10.88, you can extend the support period by six months.
5) BulkGate SMS
BulkGate is a popular SMS gateway to send out international messages. BulkGate SMS is a dedicated plugin you can use to integrate the BulkGate platform with WooCommerce.
The main advantage of this tool is the integration with Viber too. Viber is another messaging platform used by millions of people worldwide. By using this tool, you can send Viber messages to your clients.
Moreover, unlike other plugins, BulkGate SMS will inform customers and admins about the order status change. This is an excellent feature if the store admin wants to know the current status of orders.
With the custom hooks and API keys, you can extend the core functions of the plugin. This will help WooCommerce store owners develop unique features for their websites. For example, they have recently developed an Android app that can connect with your WooCommerce store. So if you prefer using your carrier's SMS plan to send out SMSs for a while, you can use this option.
On top of that, BulkGate SMS comes with a dedicated statistics page. From that page, you can check the messaging activity and complete history. Besides, the link-shortening service is available in the plugin to shorten the links and compress the overall size of the message body.
Features
User and admin notifications
Viber integrations
Admin alerts
API and custom hooks
Detailed statistics
Pricing
BulkGate SMS is a free-to-use plugin. You can get it from the WordPress plugin repository without any cost.
Conclusion
Running a WooCommerce store can be easy and challenging at the same time. For example, creating a WooCommerce store and listing products for sale can be easy. But generating leads and conversion can be a little challenging for most beginners.
Sending out orders updated through SMS can be one of the best things you can do. It will alert the customer where the package is and when they will get it. If you are handling a substantial WooCommerce store and sending thousands of parcels every day, SMS notifications are a must.
So, in this article, we discussed some of the best WooCommerce SMS plugins that can handle SMS notifications for you. Here are our recommendations.
Our Recommendations
SMS for WooCommerce and YITH WooCommerce SMS Notifications are feature-rich plugins with an easy-to-use control panel. They have every feature a typical WooCommerce store needs. Apart from that, if you are looking for a plugin that can integrate with both SMS and WhatsApp to the WooCommerce store, WPNotify is the best option.
On the other hand, when your main priority is a plugin that comes with a ton of integrations, WP SMS would be a good option. There, you will get 250+ integration opportunities. Lastly, if you are an existing customer of the BulkGate platform, you can choose the BulkGate SMS plugin to send out SMSs.
We hope you have enjoyed the post and found it helpful. Let us know which plugin is your favorite and why. Feel free to share your thoughts in the comments below.
Meanwhile, you can also check our blog archive for more relevant tutorials and guides. For instance, here are a few more posts you might be interested in: