The best currency switchers for WooCommerce for 2020
By default, WooCommerce shows all the prices of online shops in American dollars (USD). However, nowadays every website on the Internet has an international audience so it's more convenient to show your pricing in the native currency of your users. Their shopping experience can be immensely improved by just switching to a currency they're more familiar with. That's why you should display your prices based on your viewers' location. How? With WooCommerce currency switchers.
There are many options out there in the market but not all of them are equally as good. So to make your life easier, in this guide, we'll have a look at some of the best currency switcher plugins for WooCommerce. And the best part is that they're very easy to set up so you'll get results with no hassle.
Before we jump into the list, let's better understand why having a currency switcher is a good idea.
Why do you need a currency switcher for WooCommerce?
In the global context of online marketing and e-commerce, it's important to ensure that you're making your products available globally. Anything you sell on the Internet should be easily accessible in any part of the world. That's how the globalized market of e-commerce is powered, through easy access using the World Wide Web. However, putting your products out there isn't enough. You must ensure that your products and their price is understood by every single user.
By default, WooCommerce shows your product pricing and value in American dollars (USD). Even though this global currency is known, some may find it difficult to buy products with it because they don't know how much that represents in their local currency. This can be the case in areas where a standard currency is used (i.e the European Union).
Therefore, if you want to provide your users with a great experience, it's more convenient to display the products' prices in their local currency. This way, they have a better grasp of how much they want to spend and how much they can buy using the currency they're more familiar with. This is why you should consider using a WooCommerce currency switcher for your online shop.
As there are many plugins to choose from, we've selected the best ones for you. All the add-ons on our list come with incredible features and some of them are free. With these tools, you'll be able to display different currencies using accurate exchange rates, change the currency based on the country selected, show checkout using different currencies, integrate them with payment gateways such as PayPal and Stripe, and much more.
So now, let's have a look at some of the best currency switchers for WooCommerce and what they can bring to the table.
Best currency switchers for WooCommerce
WooCommerce Currency Switcher provides a free option to easily switch between various currencies on your website. It lets you add multiple currencies to your store and set exchange rates that update in real-time. Additionally, this free tool comes with a dedicated widget that can be enabled all over your website using a shortcode. Similarly, you can enable the currency switcher on your checkout page and even define the price format in various currencies. On top of that, you can use three different front end designs to allow your customers to change their currencies.
WooCommerce Currency Switcher also lets you add your custom price formats and even custom money symbols. However, one of the great features that this plugin provides is the ability to record statistics. You can easily collect switching statistic data regarding what currencies your customers switch to more often, the country, and even the time.
Key features:
3 different graphic designs for the currency switcher interface.
More than 7 currency aggregators for automatic currency rate updates.
Allow customers to pay at checkout using their currency.
Set your price formats, custom money signs and even collect currency switcher statistics.
In case you're interested in this plugin, you can have a look at the following video that quickly shows you its main features.
Currency Switcher for WooCommerce is another of the best currency switchers. When using this plugin, you can choose to automatically set the currency for your products based on your shoppers' location. It automatically detects your viewers' IP and locale and changes the prices to the appropriate currency with accurate exchange rates. Additionally, your customers can also revert to the original currency during checkout and even choose to override the currency by user-selected billing or shipping country. You can also provide multiple currency switcher placements and format options to make it easier for your customers to choose any currency they'd like to use.
Currency Switcher for WooCommerce also comes with a wide range of shortcodes and widget options that are quite handy. As far as functional and simple plugins go, this is one of the best options out there.
Key features:
Automatic currency switching and exchange rate updates.
Options for currency based on country or locale.
Multiple currencies switching placement and format options.
Tons of shortcodes and widgets for better currency switching flexibility.
Multi-Currency for WooCommerce is another popular add-on. This freemium tool comes with some of the most intuitive features available. The plugin smartly converts prices of your products, coupons, shipping prices, and even taxes based on your users' currency. You can also add a nifty widget with 7 different front end styles to your site and even a floating currency bar that easily lets your shoppers choose their preferred currency. Besides these features, the price switcher interface for your single product pages offers 4 different front end styles. The plugin also automatically detects the country based on IP address for better currency switching.
Additionally, Multi-Currency provides a premium option that starts at 30 USD and adds tons of useful features such as unlimited currency options, switching currency using Javascript, and compatibility with Finance API. The premium version even lets users save sessions on your website to save the currency they've selected instead of using the cookies.
Key features:
Multicurrency for product prices, shipping price, coupon codes, and taxes.
Easy to interact floating-bar and widgets to change currency switching.
Lets you add custom exchange fee, custom currency symbol, and multi-currency checkout.
Autodetects geo-location and language for automatic currency switching.
Here you can have a look at how easy it is to install and set up Multi-Currency on your site:
Price Based on Country is one of the top currency switchers for WooCommerce. This plugin requires little to no setup and is super easy to use as a currency switcher. It simply detects your shoppers' country and displays the prices in the corresponding currency. However, the main feature of this tool is that it allows you to set up your store to show various prices based on different countries. This way you can set up regional pricing based on geo-location which can be quite handy for some businesses. Moreover, you can calculate the pricing using exchange rates that the app provides or add your custom rates. This tool is also compatible with WPML so you can change the site's language and apply currency conversions to both flat and international shipping rates.
Additionally, Price Based on Country's pro version starts at 59€ per year and lets you add exchange rate fees, bulk editing variation pricing, and display the currency codes next to the prices too. The compatibility with other amazing WooCommerce plugins such as WooCommerce subscriptions, WooCommerce product add-ons, and WooCommerce bookings can also be handy when you're looking for a currency switcher that could be combined with other tools.
Key features:
It provides a widget to choose the currency and autodetects geolocation.
It lets you set up pricing for individual regions.
It's compatible with WPML so you can change site language and currencies easily.
Premium version adds tons of additional features such as bulk editing variation pricing, exchange rate fees and compatibility with other WooCommerce add-ons.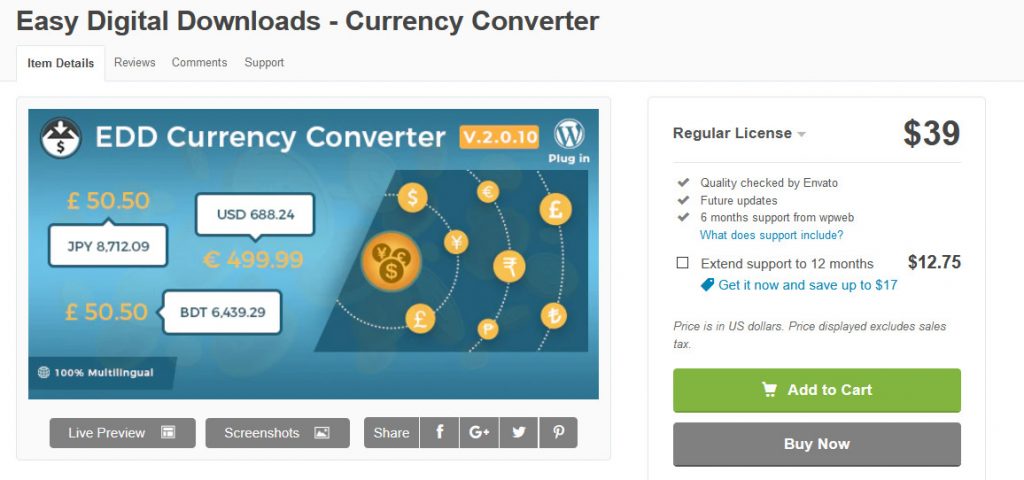 Easy Digital Downloads is one of the best premium currency switchers for WooCommerce. Starting at 39 USD, it certainly isn't the cheapest option on the list but it packs a bigger punch in terms of features. Automatic detection and popups let your customers instantly choose their preferred currency in a few clicks. Additionally, the currency switching interface is very clean and minimal with drop-down menus and currency lists. Even customizing the currency switching menu is super easy with the dedicated drag and drop customizer. You can even add your custom currencies with unique codes, labels, symbols, and exchange rates.
This top currency switcher for WooCommerce also comes with extra features that are very useful for large eCommerce stores. For example, you can add the switched currency to the default currency for better clarity or even replace the base currency with the switched currency altogether. Moreover, you can include better currency switching support in the checkout page and add popups reminding users about the switched currency and exchange rates. However, for better administration the plugin lets you process the purchases in your default currency.
Key features:
Inline currency switching interface with attractive menu design and options.
Drag and drop customizer to personalize the currency switching menu.
It lets you either replace base currency or add switching currency to the prices.
It comes with dedicated customer support services and easy to use documentation.
Another great premium option is the WooCommerce Ultimate Multi Currency Suite. This tool lets you set custom prices for your products as well as set sales and discount prices in multiple currencies. You can even customize coupon amounts in multiple currencies. Moreover, your users can either pay in the base currency or in the switched currency they chose. This plugin is also compatible with PayPal, Stripe and other payment gateways making it easier for your shoppers to purchase using their preferred payment method. Exchange rates for automatic conversions can be either set manually or you can choose to automatically update them for better convenience.
Similarly to other tools on the list, WooCommerce Ultimate Multi Currency Suite automatically switches the currency based on the users' IP and even saves their preferred currency settings. The plugin also comes with translations in English and Polish and PO/mo files so you can set up your translations. This plugin is very simple to set up so it's a great option if you want to display your products in several currencies without spending much time on it.
Key features:
It provides an option for paying in base currency or alternative currency.
Automatic currency detection and simple currency switching widget for frontend.
Multi-currency support for sales, discounts, coupon codes, and even shipping costs.
Completely compatible with PayPal, Stripe, and other payment gateway services.
Open Currency Converter is the last plugin on our list of top currency switchers for WooCommerce. Even though it isn't as famous as other add-ons on the list, this free plugin comes with a robust package of features that you might not find in other tools. This includes a supported list of over 170 different currencies and auto-updating currency exchange rates. Not only do you get dedicated shortcodes for your shop but also a dedicated PHP function for currency conversion.
So if you know how to code, you can directly enable currency switching in your theme. Additionally, you can use templates to control how you display the currency conversions to your users. The administrative interface lets you customize the default currency, view exchange rates, and define how customers can switch their currencies whenever they want.
Rather than a simple currency exchanger, this plugin works marvelously as a currency conversion option to show your prices in various currencies without much hassle. The plugin is completely free and works great even outside WooCommerce purposes. So while it may not be the perfect currency switching option, it's a plugin you could check out for your multicurrency needs.
Key features:
Completely free and super easy to setup.
Supports over 170 different currencies.
Dedicated shortcodes and PHP functions to convert currencies.
Caches conversion results for faster loading and response time.
Currency Switchers for WooCommerce: Conclusion
And that concludes our list of the best currency switchers for WooCommerce. Currency switching can be one of the most crucial features for any online store and if you want your products to appeal to a global population you should consider using one of these plugins. All these tools are pretty easy to set up and some of them are even free so you can try them out without spending much time or money! If you're not sure which one to choose, you can start with WooCommerce Currency Switcher or the free version of Price Based on Country.
So now it's your time to try them and tell us how you feel about using these plugins. What features do you think they should add? Do you have any recommendations for other currency switcher plugins that we should add to the list? Please let us know in the comment section below!