Best Plugins To Customize WooCommerce Product Page
Looking for the best way to edit the product pages in your store? Then look no further, In this guide, we'll have a look at the best plugins to customize the WooCommerce product page. We'll show you different tools to personalize various aspects of your product pages and also some alternative ways to make the most of your eCommerce site.
Why customize the WooCommerce Product Pages?
Product pages are extremely important for an online store's success. It's where you display your products and all their benefits and features. All in all, it's where you try to convince your customers to buy what you have to offer.
However, WooCommerce's default product options are limited, especially if you're an online business with a niche market or product. By customizing your product pages and adding extra details, you can greatly improve customer experience and stand out from your competitors. Not only do you need to make sure that you're displaying your products in the best way possible, but also ensure that all the relevant information is provided to your shoppers.
That's why personalizing the product pages can make a huge difference. We've already seen several ways to edit the product page. In this post, we'll focus on the best plugins to customize the WooCommerce product page. These tools allow you to personalize your pages and provide an easy way to improve your website's user experience.
So without further ado, let's have a look at the top plugins you should use to edit your product pages.
The Best Plugins to Customize WooCommerce Product Page
The best plugins to customize your WooCommerce product page are:
YayExtra – WooCommerce Extra Product Options (Free and Premium)
WooCommerce Store Customizer (Free and Premium)
WooCommerce Single Product Page Customizer (Free)
Product AddOns for WooCommerce (Free and Premium)
DHWCPage (Premium)
Custom Tabs Manager (Premium)
WooThumbs (Premium)
WISDM Customer-Specific Pricing for WooCommerce (Premium)
Let's have a closer look at what each tool has to offer.
YayExtra is one of the best WordPress plugins with multiple cutting-edge features to edit the WooCommerce product page. You can create a set of product options in bulk and assign it to various products in a single click.
This tool comes with several advanced product fields, such as colors, image swatches, file upload, delivery date, time picker, and more. Besides, with the delivery date field, you can display the expected delivery date to your customer on the front end. All these customizations are easy to use, and you can customize them right from the plugin's settings page.
The conditional field display is another advanced feature offered by YayExtra that allows you to display certain fields based on the user's selection. This way, you can add more valuable and cutting-edge features to your WooCommerce store.
You can use also cross-sell and upsell features to increase your overall revenue. Finally, you can also offer a custom discount code to convert the visitor into a customer.
Key features
Image swatches
File upload
Time picker
Date picker
Conditional field display
Cross-selling and upselling
Pricing
YayExtra is a freemium plugin. The lite version is available in the WordPress plugins repository, but if you are looking for more unique features, you should check out the premium version. The yearly license will cost you $59 for a single website, whereas the lifetime subscription starts at $199 for a single domain license.
WooCommerce Store Customizer is an all-in-one plugin that lets you customize nearly anything in your WooCommerce store. It's an excellent tool to add customization features that WooCommerce doesn't offer by default. This includes everything from adding product sale statistics on the front end to editing your store button designs and more. Store Customizer has many options to customize your product, My Account, and Shop pages.
With this plugin, you can add or remove any element or button to your product pages such as tabs and headings, continue shopping buttons, on-sale banners, and much more. You can also add Plus and Minus increment buttons next to your Add to Cart button which lets your customers add multiple items of the same product to your cart directly. Even though this seems like a basic feature, it's something that WooCommerce doesn't provide by default.
Key features
Add or Remove different elements, modules, and buttons from the WooCommerce Product page
Options to edit the typography, font size, and font colors for your Product page, Shop page, Checkout, and more
Enable Add to Cart increments/decrements button with options to set Min/Max values for the increments
Pricing
WooCommerce StoreCustomizer is a freemium plugin. It has a free version with basic features and a pro plan that comes with more functionalities and starts at 49 USD per year.
WooCommerce Single Product Page Customizer is a free plugin that you can use to add text, media, or HTML elements to your Product pages. It comes with a dedicated visual HTML editor that lets you add custom HTML elements or hooks to your product page. You can also select the position of your custom elements allowing you to implement tons of unique designs to your product page.
Single Product Page Customizer is also a great tool for those who know how to code and want to spice up their WooCommerce product page without installing additional plugins or even paying for them. Not only can you add custom texts such as sale offers, custom links, announcements, or discount offers but also include embeds to various videos and add custom WooCommerce hooks to your product pages.
Key features
User-friendly visual editor to add text and HTML
Over 17 different unique positions to add HTML elements
Supports custom texts, HTML codes, links, media, embeds, and more
Pricing
WooCommerce Single Product Page Customizer is a completely free-to-use plugin.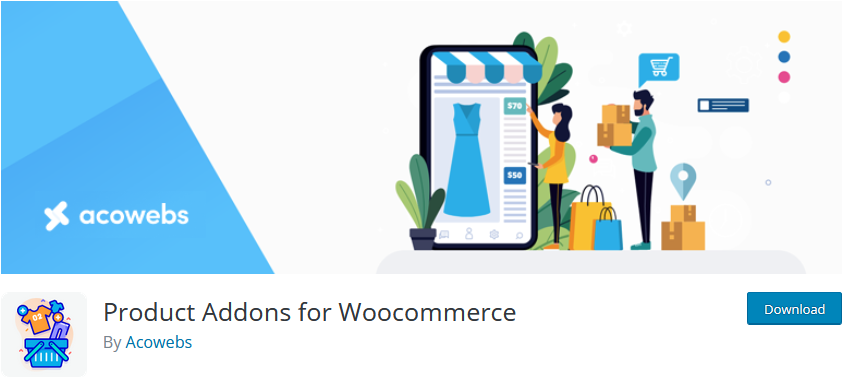 Product AddOns for WooCommerce is a nifty lightweight plugin that you can use to add custom fields to your product page. Personalize your pages with custom product options and fields. This tool comes with a dedicated form builder to create unlimited fields on your product pages. You can choose from over 10 different unique field types: from custom checkbox fields to radio fields to color pickers.
One of the most interesting features of Product AddOns is that it allows you to add specific fields to collect all kinds of data from your customers. You can collect customer notes, dates, engrave texts, and much more. And you can personalize each field to your heart's content.
Finally, Product AddOns also offers pricing options, the possibility to add conditional logic, and upload fields.
Key features
A lightweight plugin to add custom fields to WooCommerce product pages
Options to add 10+ unique fields using a dedicated form builder for the product page
Each field can be tracked and recorded in your admin backend as well as order details/receipts
Pricing
Product AddOns is a freemium tool. It has a free version that you can download from the WordPress repository and a pro version that will set you back 39 USD per year.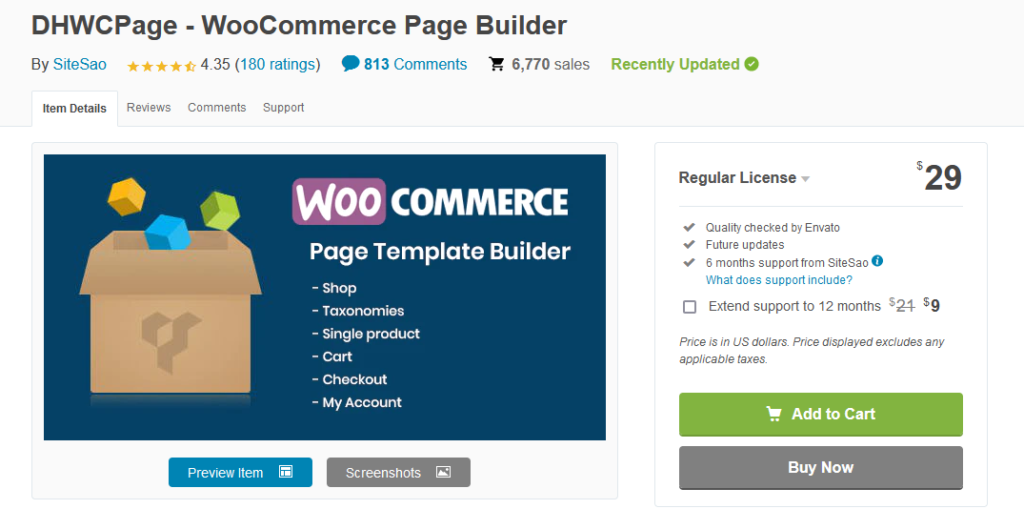 DHWCPage provides the ultimate WooCommerce product page customizing experience. If you're searching for a premium tool to edit your product pages, this is the perfect pick for you. DHWCPage comes with a dedicated drag-and-drop page builder to help you design and customize your product pages.
With DHWCPage, you can individually design unique product pages based on types of products and categories. Design unique product pages for your simple, variable, and grouped products. You can also set up product pages using a custom slider that comes with 3 different unique variations.
DHWCPage also lets you add custom fields and extra product options directly to your single product page. While the plugin allows you to add custom product page designs for specific product types (simple, variable, and downloadable), you can also create unique product pages for each item.
Key features
Drag and drop page builder for the product page
Options to customize product pages based on product types, categories and even design unique product pages for each product individually
Supports WooCommerce shortcodes and provides options to add custom product page options and fields
Pricing
DHWCPage is a premium plugin that will set you back 29 USD per year for the regular license.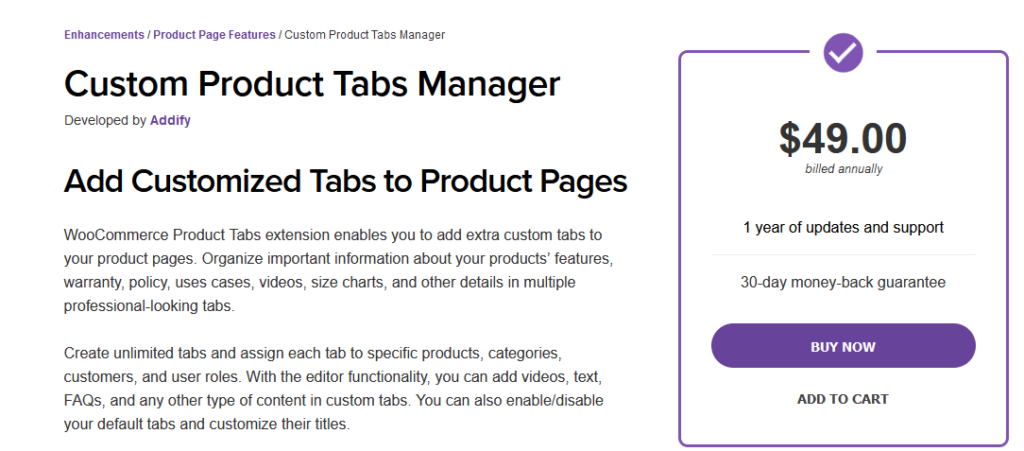 By default, WooCommerce's product page tabs can be quite limiting for some users. If you want to add more information and details to your products then WooCommerce Custom Tabs Manager is a must-have for your needs. This premium plugin lets you add unlimited custom tabs to your product pages to include more details about your products. This includes policies, warranty details, media images, comparison charts, and much more.
WooCommerce Custom Tabs Manager lets you assign specific tabs based on a product's category and taxonomy. You can even add specific custom tabs only for some products. On top of that, you can display or hide tabs for specific customer/user roles.
Additionally, with WooCommerce Custom Tabs you can personalize each tab. Add custom background images, icons, customize font colors, and more. You can even display Contact7 forms directly on your custom tabs too and let your customers fill them in from your product pages.
Key features
Unlimited custom tabs for single product pages
Option to assign tabs to specific products and categories as well as restrict them based on user roles
Full personalization for custom tabs along with the option of sorting your tabs as per your needs
Pricing
WooCommerce Custom Tabs is a premium plugin with a price tag of 49 USD per year.
WooThumbs is a dedicated gallery plugin that you can enable specifically for your WooCommerce product page. Your product's images are crucial to selling your products online and WooThumbs understands this perfectly. Use a smart product gallery plugin that lets you design unique galleries to better suit your products. With this tool, you can add sliding thumbnails to your product overview with dedicated slider options including slider animations and zoom.
Similarly, you can set up fully customizable image galleries for variable products. This allows you to create flexible product galleries that adjust flawlessly when switching between product variations. WooThumbs also lets you embed videos to showcase your WooCommerce products even better and you can include additional video options so that the embeds fit seamlessly with the rest of your products.
Key features
Fully customizable image galleries and sliding thumbnails for your products
Flexible image galleries designed perfectly for variation products
Supports Embedded video as well as full-screen galleries
Pricing
WooThumbs is a premium plugin that starts at 79 USD per year.
If your business service doesn't work through the conventional way of buying and selling products and you require an alternative method for your product pages, then WISDM Customer Specific Pricing is perfect for you. This plugin lets you give your customers the option to specify their own pricing that you can accept or negotiate. This is a great addition for "name your price" businesses that sell products in bulk and accept price negotiations.
This plugin also comes with nifty addons and tools to make your life much easier. This includes a dynamic price arrangement element, individual pricing for different customer roles and subscriptions, and more. It also lets you add cart discount options based on the number of products and set pricing rules for different product categories. You can even set up pricing tiers for your products so that there's even more incentive for bulk-based buying.
Key features
The perfect tool to enable dynamic prices on your website based on quantity and frequency of purchases
Smart pricing manager with options to set dynamic pricing based on roles, product categories, and subscriptions
Options to set up Quote Request buttons as well as enabling scheduled sales and additional features for limited time offers
Pricing
WISDM Customer Specific Pricing for WooCommerce is a premium tool that starts at 80 USD per year.
Using plugins isn't the only way to edit your product pages in WooCommerce. In the following section, we'll show you how to do it using page builders.
Customize Product Page using Page Builders
Page Builders can be one of the best tools to customize any of your WooCommerce or WordPress pages. And product pages are no exception. With page builders, you can either use beautiful templates and elements to set up your custom product page or start from scratch and handcraft each element.
You can even create and designate a Custom Product page template and add a variety of custom widgets and elements to your product page simply by dragging them in. From galleries to sliders to reviews and stocks, you can add a myriad of elements. And the best part is that the process requires no coding at all.
So if you're looking for a way to create professional-looking product page designs with your own hands or use pre-defined templates for them, page builders are an excellent option for you.
You can learn more about how to use page builders to customize your product pages in the following guides:
Editing WooCommerce Product Page Programmatically
Alternatively, if you don't want to customize your product page by using a third-party plugin and have coding skills, you can customize your WooCommerce Product page programmatically.
Here's a quick example of some of the things you can do. If you want to reorder the elements of the product page and move the product description below the title, you can use this script.
// change order of product description
remove_action( 'woocommerce_single_product_summary', 'woocommerce_template_single_excerpt', 20 );
add_action( 'woocommerce_single_product_summary', 'woocommerce_template_single_excerpt', 6 );

The script removes the action and then adds it again with a different priority, so the elements appear in a different order. This is just one example but there's a lot more you can do. For more examples, have a look at this full guide.
Editing the product page programmatically requires a bit of knowledge about WooCommerce hooks and overriding WooCommerce Template files. You can learn more about using WooCommerce hooks here.
Conclusion
And that concludes our list of the best plugins to customize your WooCommerce product page. All the tools we've seen will get the job done, but which one is the best for you?
WooCommerce Store Customizer and WooCommerce Single Product Page Customizer are excellent choices. They offer free versions and have a lot of great features to edit your product pages easily. If you want something more advanced, the premium version of WooCommerce Store Customizer, Product AddOns, and Custom Tabs Manager are excellent choices.
Additionally, we have had a look at alternative methods to personalize your product pages:
Using WooCommerce Hooks and overwriting product page templates
With Page Builders
If you're not sure which method to use, we highly recommend using both plugins and page builders. The plugins will let you add custom options and features not available in WooCommerce by default, while page builders will help you customize your product page templates without actually having to code a single line. On the other hand, if you know how to code, customizing the product page programmatically provides you with a lot of flexibility on what you can achieve. For more information on how to do it, have a look at this guide.
Finally, if you want to learn more about customizing your WooCommerce product page, check out the following guides: