Do you want to use a virtual phone number and are you looking for the best tools? We've got you covered! We'll have a look at the best virtual phone number apps for 2022 and teach you how to use WhatsApp without a phone number.
In recent years, the use of virtual numbers has been growing steadily because it has proven to be beneficial for businesses that want to reduce their costs, improve their support and grow globally. That's why it is no surprise that the number of services that provide a virtual number has also increased, so it may be hard to know which app you should use.
Before we have a look at the best virtual phone number apps, let's have a look at what a virtual number is and its benefits in more detail.
What's a Virtual Phone Number?
A virtual number is a phone number that can be used on mobile devices without the need for an actual SIM card. This means that you can use the virtual number in multiple devices keeping the same number which is an excellent solution for businesses.
These virtual numbers are generally provided by a virtual number service and you can use them to make calls or send messages through a mobile device. Depending on the service, you might also need to download an app to your computer or mobile device to start using it.
Virtual phone numbers are a great alternative to phones with actual SIM cards. Not only do they allow you to reduce costs but also make it easier to manage your phone numbers. That's why they have proven to be more beneficial than the traditional phones with SIM cards, especially for businesses.
Now that we better understand what they are, let's quickly go through the benefits of virtual numbers.
Benefits of Virtual Phone Numbers
Using phone numbers with SIM cards for your business isn't ideal. There might be many employees who might need to use the number for support or contact purposes. Traditionally, companies would buy different phones with different numbers which can be expensive, hard to manage, and not scalable. Alternatively, some smaller businesses would sometimes let employees use the business owner's personal phone number which isn't a good practice as you can imagine.
A WhatsApp virtual number makes it easy to manage your business calls and messages and it doesn't require a SIM card to use the number on multiple devices. This can be very helpful if you have several employees working for your business and multiple phone numbers for various services.
Apart from being convenient, virtual numbers are much cheaper than real phone numbers. As you can use the same virtual number on different devices, all you need is one virtual number. On top of that, with this number, you can create many WhatsApp accounts, which is an interesting option for businesses with an international presence.
In summary, virtual numbers are an excellent alternative for businesses. You can use them from anywhere in the world and they will help you expand while reducing costs.
Best Virtual Phone Number Apps
There are different services that you can use but, in our experience, the best virtual phone number apps are:
MessageBird (Free and Premium)
TextNow (Free and Premium)
Grasshopper (Premium)
Google Voice (Free and Premium)
OpenPhone (Premium)
TextFree (Free)
Let's have a closer look at what each app offers.
MessageBird is an omnichannel communication platform that can help you easily get a virtual number to grow your business. It is one of the few virtual phone number apps that provides you with a flow builder option. This is an excellent option to simulate and test how your new virtual number works with phone calls, text messages, and so on.
Additionally, you can unify all your communication channels into one inbox with a virtual number. This can be very convenient for those with several customer support agents. This can also help you enhance communication with your users which will improve their experience on your site.
Key Features
Free omnichannel customer support and engagement
Drag and drop flow builder
Video scheduling
Multiple communication channels
Developer-friendly
Price
MessageBird has a free version with limited features and different premium plans that start at 50 USD per month with Coach Support.
TextNow is a free virtual phone number app that you can use to get a virtual number instantly. All you need to do is install the app on your mobile device, signup and select a virtual number. Then, you can start making calls or sending messages using the virtual number.
This service is completely free, so you don't have to pay anything to get a new virtual number. TextNow also has some premium plans if you want an ad-free experience and high-speed data.
Key Features
One free phone number
SIM activation kit
Additional data and speed options
Available with TextNow enabled phones
Voicemail transcription
Price
You can use this service for free or pay 9.99 USD per month if you want voicemail transcription, unlimited photo and video history, no ads, and more.
Grasshopper is one of the most convenient virtual phone number apps for startups. It is designed to help small businesses use virtual numbers to reduce costs and do business from anywhere in the world.
This service also includes a wide variety of virtual numbers for your business such as toll-free, vanity, and local numbers. Another interesting feature is the possibility to transfer all your data to Grasshopper if you have previously used a virtual number from any other service.
Key Features
Focused on small businesses
Toll-free, vanity, and local numbers
Port your current number
Easy setup and configuration
Price
Grasshopper starts at 26 USD per month for 1 phone number and 3 extensions.
Google Voice is another one of the best free virtual number apps that you can use to grow your business. Since it is a service provided by Google, you can link it to other Google workspace apps on multiple devices which makes it super convenient.
Moreover, as with most other Google workspace apps, the interface is quite simple and easy to use, so the learning curve is almost non-existent.
Key Features
Simple and easy-to-use interface
Unlimited international calls
Voicemail transcription
Google apps integration
Call forwarding
Price
Free for personal use or 10 USD per month for the cheapest business plan.
OpenPhone is one of the best virtual number apps if you want a virtual number for your business at an affordable price. It has all the features and elements that you need to use virtual numbers and it includes a ton of additional features that can take your business to the next level.
OpenPhone comes with global messaging and calling options that can be useful for international communication. Similarly, you also get multiple number options for dedicated inboxes, snippets, auto-replies, and more.
Key Features
Group messaging
Global calling and messaging
Talk time insights
Compatible with major business tools
Business hours options
Price
This app will set you back 10 USD per month and includes unlimited calls and texts.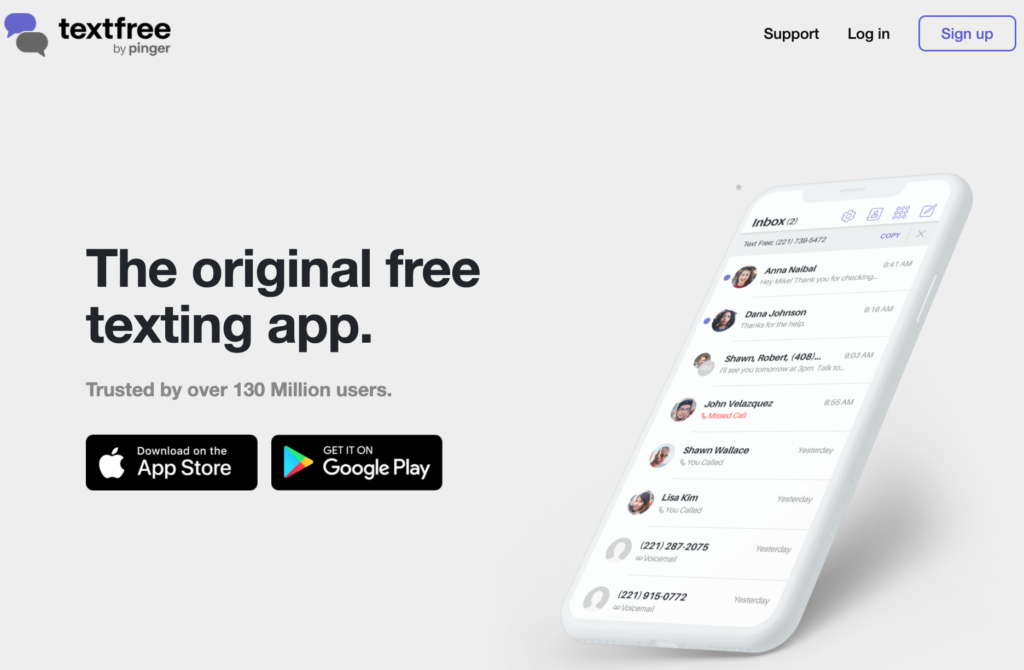 Text Free is another of the best virtual phone number apps and allows you to get a phone number for free. You can send texts and even make calls to other users who use this service for free. But that's not all. The best part is that Text Free provides you with a real US phone number so that you can text anyone, even if they aren't Text Free users.
With this service, you can send texts, group messages, pictures, and videos from your phone or the web. Additionally, it allows you to make calls using WiFi even if you don't have a carrier plan
NOTE: Note that to use this service you need to be in the US or use a VPN service. If you choose the VPN service and you aren't in the US, you shouldn't give the app access to your location.
Key Features
Free virtual phone number (US)
Free calls and texts
Send group messages, pictures, and videos
Make calls using WiFi
Web, iOS and Android application
Price
Text Free is a free service that has a web version as well as iOS and Android apps.
How to use WhatsApp without a Phone Number
We have already shown you some of the best virtual number apps for personal or business use. However, you must have a basic understanding of how they work and how you can use them. For this, we'll show you how to use WhatsApp with a virtual number.
You can easily use WhatsApp without an actual phone number. All you need to do is get a virtual number from one of the mentioned services and start using it in WhatsApp.
For this particular tutorial, we will use MessageBird, but you can use any of the virtual number apps that suit your needs. You also need to make sure that the device you're using has an active internet connection.
1. Get a Virtual Number
To get a virtual number with MessageBird, make sure that you have subscribed to one of their premium plans. Then, go to the Numbers tab in your MessageBird dashboard and press Buy a number.
Then, enter your Country and click Search. It will show you different virtual numbers that you can use. For this demo, we will select the United States but make sure that you select your country before searching for a virtual number.
After that, select a virtual number, press Buy, and complete the order. As you can see, you just need 1 USD to buy a virtual number.
2. Test Virtual Number with Flow Builder
MessageBird comes with a flow builder that lets you test your new virtual number. To do this, go to Flow Builder in your MessageBird dashboard and create a custom flow. Press Create new Flow and then select Create Custom Flow.
Now you need to add a Phone Call trigger to your flow, so, select it and click Next.
Then, add the virtual number to this trigger and add two more triggers to Forward call and End of flow. Finally, you should have a flow that looks like the below screenshot. Press Simulate to test it.
If there are no issues, the call status will be successful and you will be able to start using WhatsApp with your new virtual number.
If you have any issues or want more information about this, check out our guide on how to get a WhatsApp virtual number.
3. Verify your Virtual Number in WhatsApp
After you have successfully tested the virtual number, you can use it to verify it on WhatsApp. Then, enter the new virtual number when you open WhatsApp. Your verification code will be sent to the virtual number via SMS. To check the SMS with the code, in your MessageBird dashboard go to SMS > SMS overview.
Simply enter the verification code in WhatsApp and complete the signup. That's it! Now you can start using WhatsApp with a virtual number.
Finally, it's worth mentioning that you can also use a landline number to use WhatsApp without using a phone number. You can find more information about this in our tutorial on how to use WhatsApp without a phone number.
Conclusion
All in all, virtual number apps are excellent tools that will help you reduce costs and improve customer experience and grow your business. They are especially useful for those businesses with several customer support agents.
In this guide, we've seen some of the best virtual phone number apps that provide you with a virtual number. These tools can be extremely beneficial for you because they let you use the same virtual number on multiple devices.
What's the most appropriate app for you? If you want a robust system with a variety of features for your virtual phone number, MessageBird and Grasshopper are excellent options. If you want a virtual number for free, on the other hand, TextNow, Google Voice, and Text Free are good choices. Finally, if you're looking for a budget-friendly virtual phone service for your startup without all the bells and whistles, OpenPhone is a great choice.
In this tutorial, we've also shown you how to use WhatsApp with a virtual number. This is a very good example of how you can use virtual numbers to make the most of them. For more interesting articles, check out the following guides: