Are you looking for the best Rank Math alternatives? If you want an SEO plugin similar to or even better than Rank Math, continue reading this article. This time, we'll present nine alternatives for you to consider instead of Rank Math.
But before moving on, let's look at Rank Math and what sets it apart from the other SEO tools and plugins.
Rank Math: An Introduction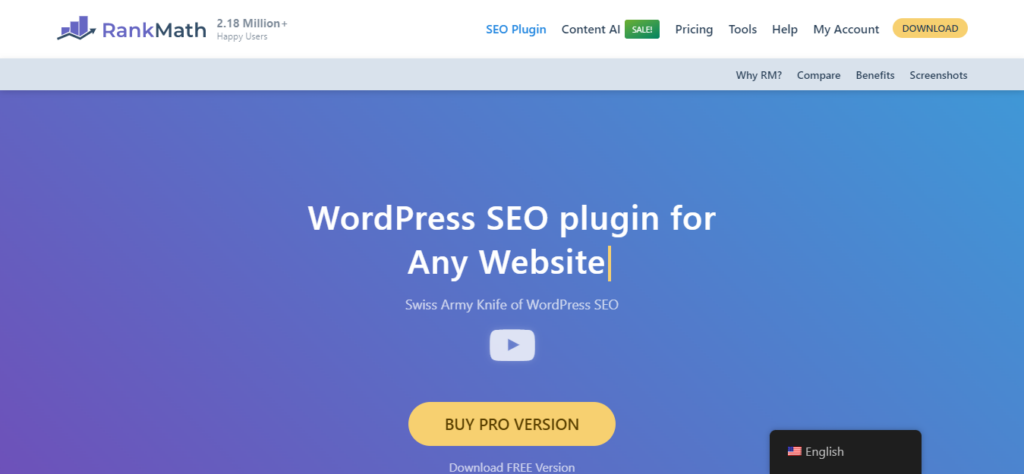 Rank Math is one of the best freemium SEO tools that makes your content search engine friendly. It has more than 800,000 active installs because of its user-friendly UI and compelling SEO features.
Additionally, the plugin comes with a helpful setup wizard. From here, you can quickly customize the settings for your website to suit your needs. The settings can also be set up in several modes depending on your advanced or beginning SEO skills.
Similarly, the capabilities you can utilize once the plugin's setup is complete are also helpful. They can accommodate every type of user, whether you are new to SEO or an expert. Here are some of the most popular features of Rank Math:
Quick and straightforward SEO setup wizard
Simple and intuitive interface
Analysis of SEO and content readability
Comprehensive SEO analytics module
Track the rank of targeted keywords
Integrated with Google Analytics
Note: Please check our detailed guide to set up Rank Math for more information.
Now you know what Rank Math is and what it has to offer. Next, let's see why you should look for Rank Math alternatives.
Why Look for Rank Math Alternatives
Rank Math has unquestionably established a reputation in the world of SEO plugins. But as with any tool, what works well for one person might not work as effectively for another. That's why you might want to find an alternative that aligns better with your needs and preferences.
While Rank Math integrates seamlessly with most WordPress themes and plugins, there may be instances where conflicts arise. Suppose you encounter compatibility issues or notice performance problems on your site after installing Rank Math. In that case, other alternatives might be worth considering to ensure smooth operation without glitches.
Besides that, Rank Math offers various advanced settings and customization options. An alternative could be beneficial if someone prefers simple settings and customization options.
These are notable points to look out for Rank Math alternatives. Now you know why it is a good idea to look for other Rank Math alternatives, let's see essential factors to look for in an SEO plugin.
What to Look for In an SEO Plugin
When choosing an SEO plugin for your website, you should consider a few key factors. These factors will help ensure you select a plugin that meets your specific needs and helps boost your site's search engine optimization efforts.
Usability: Look for an SEO plugin that is user-friendly and easy to navigate. This will simplify optimizing your content and making necessary changes without hassle or confusion.
Features:  Choose a comprehensive tool with essential functionalities like keyword optimization, XML sitemap generation, and social media integration.
Compatibility: Ensure the SEO plugin seamlessly integrates with tools you may already use on your website. This will prevent any conflicts or issues when optimizing different aspects of your site.
Updates and support: A reliable SEO plugin should regularly release updates to address any bugs or security vulnerabilities while providing ongoing support in case you encounter any technical difficulties.
Performance optimization: Look for a lightweight SEO plugin that doesn't slow down your website's loading speed. A fast-loading site improves user experience and improves overall search engine rankings.
You can find a Rank Math alternative that meets your needs by carefully analyzing these factors. Now, let's move to the day's main topic, where we will list the top Rank Math alternatives.
Best 9 Rank Math Alternatives You Should Try
Here, let's take a look at the nine best Rank Math alternatives:
Yoast SEO
All-In-One SEO Pack
Slim SEO
SEOPress
The SEO Framework
Premium SEO Pack
SEOPressor
WP Meta SEO
SEO Squirrly
Each plugin comes with unique features. Below, we will explain what makes the tool different. Based on your preferences and requirements, you can choose a tool.
1. Yoast SEO
Yoast SEO is a popular alternative to Rank Math, including a wide range of functions to assist with website optimization and improve your search engine rankings. The plugin should be on your radar if you're looking for a powerful yet user-friendly plugin to boost your SEO efforts.
One of the notable features of the plugin is that it can assess your content and offer in-the-moment ideas for improving it, which is one of its most noteworthy capabilities. On top of that, the plugin ensures that your content is user-friendly and search-engine friendly, from keyword optimization to readability checks.
Not only limited to that, Yoast SEO also offers advanced features such as setting canonical URLs, managing meta tags, and regulating how your website appears in search results. Another fantastic tool is the XML sitemap generator, which makes it simpler for search engines to scan and index your content.
Features
Real-time page preview
Schema markup for better results
Supports more than 20 languages
Remove 404 pages using the redirect manager
Access to Yoast Academy with premium plans
Pricing
Yoast is a freemium plugin available in free and premium versions. You can download the free version through your WordPress dashboard. The premium version costs $99 per year for a single site plan.
2. All-In-One SEO Pack
Another excellent Rank Math alternative is the All in One SEO (AIOSEO) plugin. You may thoroughly optimize your WordPress website's simple-to-use functionality to get the most search traffic possible. This plugin is perfect for entrepreneurs, programmers, bloggers, designers, and everyone else.
It is user-friendly for beginners and handles all those complicated settings with its automated system. After less than 10 minutes of setup, you can use its sophisticated WordPress SEO capabilities like SEO meta titles and descriptions, XML sitemaps, local SEO, and more.
Additionally, eCommerce plugins like WooCommerce offer excellent support for Google Analytics and SEO integration. Its TruSEO Score On-Page Analysis more thoroughly analyzes your on-page SEO optimization.
Features
Improves mobile SEO with Google AMP
Control web crawlers using the robot.txt editor
Supports Google Analytics
Integrated with Social Media like Facebook and Twitter
Includes video sitemap generator
Pricing
All-in-One SEO is a freemium plugin. You can get the free version of this plugin from the official plugin repository. The premium version costs $49.60 per year for a single site license.
3. Slim SEO
If you're looking for a lightweight yet powerful alternative to Rank Math, Slim SEO is worth considering. Its simplicity and robust features make it a solid choice for optimizing your website's SEO performance.
You can alter each page's meta tags, titles, and descriptions and post them on your website. With this level of personalization, you have greater control over how your content is presented in search engine results, which ultimately increases click-through rates and organic traffic.
Also, Slim SEOs automatically produce XML sitemaps, an excellent feature for any SEO plugin. Sitemaps ensure that search engines can crawl and index all your website's pages. Making an XML sitemap makes it simpler for search engines to find and rank your material.
Features
Automatically creates meta tags
Auto generates XML sitemaps
Redirects attachments to the file or URL
Supports customizable breadcrumbs
Suitable for beginners
Pricing
Slim SEO is a free SEO plugin that can be downloaded from the official plugin directory or their official website.
4. SEOPress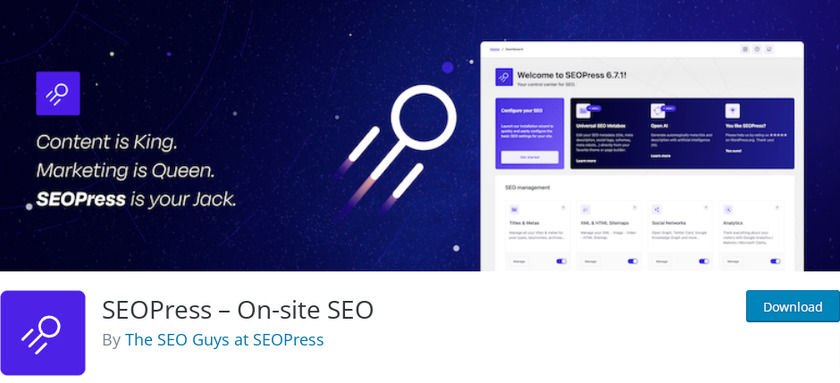 With the help of the strong WordPress SEO plugin SEOPress, you can quickly and effectively improve the SEO of your website. Without adding extra extensions for redirects, schemas, sitemaps, etc., it already has all the capabilities you require.
Unlike Rank Math, which requires you to purchase its premium plan, it enables you to perform content analysis with unlimited keywords, even in the free edition. With the help of its sophisticated content analysis tool, you may improve your blogs and posts by using optimization techniques.
Furthermore, it has been completely connected with Google Analytics, allowing you to track visitors and download tracks, custom dimensions, affiliate links, etc. Using Open Graph tags, Twitter cards, and Google Knowledge Graph enhances social network sharing.
Features
Ad-free front-end and backend
Creates personalized XML and HTML sitemap
Switch to any SEO plugin without losing metadata
Includes broken link checker
Comes with SEOPress Insights for link-building
Pricing
SEOPress is a freemium WordPress plugin. The free version can be downloaded from the official plugin repository. The premium version costs start at 49 USD per year.
5. The SEO Framework
Another fantastic Rank Math alternative is the lightweight plugin for WordPress, "The SEO Framework." Your website's components are automatically analyzed and optimized by its built-in AI.
Additionally, it complies with all of the WordPress and search engine-imposed white-hat standards and regulations. Also, it offers real-time caching, which makes it simpler for your database to manage the heavy load and conserves your laptop's battery.
You also receive several paid and free extensions, like Focus, Articles, AMP, Local, etc. These sophisticated API-driven add-ons improve your WordPress website's rating.
Features
Do not require any configuration
Automatic social share
Prevents SEO attacks
Avoid canonical problems for multisite domain
It doesn't produce cookies for data privacy
Pricing
The SEO Framework is a freemium WordPress plugin. The free version is available on the official plugin repository. The premium version costs 7 USD per month.
6. Premium SEO Pack

The Premium SEO Pack is another reliable and trustworthy Rank Math alternative with this beginner-friendly plugin on our list. You have complete control to improve the SEO value of each page.
It's also a fantastic plugin for anyone who owns an online store because it integrates nicely with WooCommerce. Additionally, it offers excellent support for multilingual WordPress plugins. As a result, you can translate your website into any language without worrying about harming its SEO rankings.
It combines effective optimization tools like competition tracking, spam protection, keyword and content analysis, and page performance monitoring. Also, the bulk optimization tool deserves special attention. You can use titles, descriptions, and keywords to optimize your posts and pages simultaneously.
Features
Tool for title, description, and mass keyword optimization
SERP tracking tool to keep track of progress
Built-in W3C validator tool
Easy-to-use dashboard
Uses WordPress Multisite
Pricing
Premium SEO Pack is a premium plugin that can be purchased from CodeCanyon for a one-time payment of 44 USD.
7. SEOPressor
Over 23 million WordPress websites are powered by the premium SEO plugin SEOPressor. Their dashboard displays all your SEO data in one location, making it quick and straightforward to see and fix mistakes.
An SEO score and the ability to target up to three keywords per post or page allow you to ensure your website's content is correctly optimized. Additionally, it offers unique features, including a warning against keywords that may sometimes be overly optimized.
Furthermore, excellent yet straightforward reporting tools include a website SEO health meter that gives you quick information about how well your site is doing. Also, its On-page SEO recommendations offer practical and understandable suggestions on areas that need attention.
Features
Provides advanced on-page analysis
Inbuilt Semantic Builder and SemanticQ Engine
Comes with a progressive LSI keyword engine
Fix, create, and manage internal link
Supports Dublin Core and Schema Markup
Pricing
SEOPressor is a premium WordPress SEO plugin. It can be purchased from its official website for only 9 USD monthly with free lifetime updates.
8. WP Meta SEO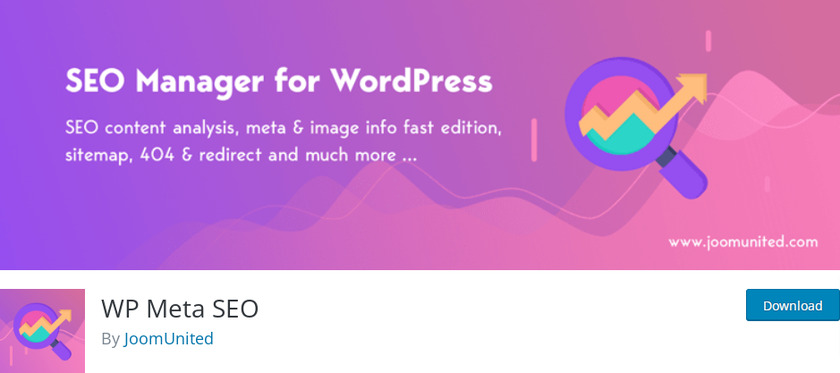 Another Rank Math alternative is WP Meta SEO, created for users with minimal SEO knowledge. This plugin lists all the significant SEO issues that are currently present on your website as soon as it is downloaded.
It doesn't get much simpler than that! A quick description and a solution will appear if you hover over each issue. Bulk meta tag and picture tag editing, keyword suggestions, and an automated XML sitemap generator are features that make your content optimization easy. Not only that, but an easy-to-use interface is included with on-page SEO recommendations.
Additionally, it includes an exclusive interface to Google Search Console, giving you access to useful Google website analytics and recommendations right inside the plugin.
Features
Integrated with Elementor, WooCommerce, Google Search Console, etc
Automatically checks for 404 errors and redirects
Breadcrumb generator that is compatible with rich snippets
Personalized individual email reports
Manually creates and submits a sitemap XML to Google Search Console
Pricing
WP Meta SEO is a freemium WordPress plugin. The free version can be downloaded from the official plugin repository. The premium version costs 49 USD per year for unlimited websites.
9. Squirrly SEO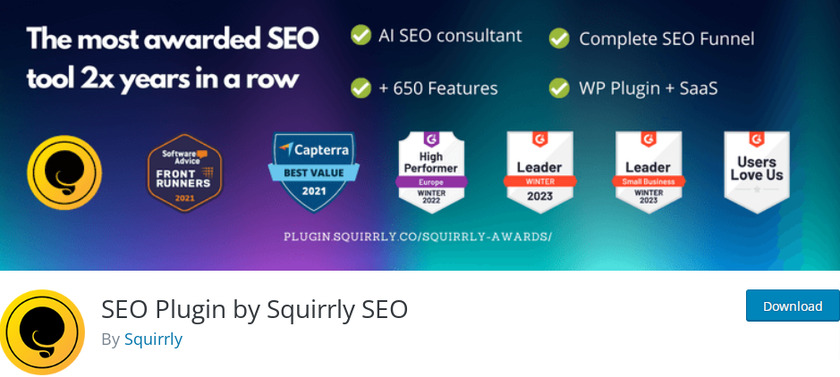 Lastly, we have a Squirrly SEO plugin, which is quite user-friendly for beginners. This plugin is more than an SEO plugin because it functions as a cloud service and machine learning-powered private SEO consultant.
With the help of its Smart Strategy, you can optimize your SEO performance and achieve higher SERP rankings. It also performs competitor analysis and recommends how to enhance and outrank pages of a similar nature.
Moreover, its comprehensive automation features automate everything, including social media and semantic definitions. And its inbuilt feature, 'The SEO Live Assistant,' offers immediate guidance on improving and optimizing content.
Features
Keyword management and research
SEO Monitoring
Regular SEO site audit
Provides guidelines for ranking particular pages
Integration of Live Assistant with Google Analytics
Pricing
Squirrly SEO is a freemium WordPress SEO plugin. The free version can be downloaded from the official plugin repository. The premium version costs 29.99 USD per month for seven website licenses. 
Conclusion
While Rank Math is a popular and effective SEO tool, looking into other choices that may suit your needs is always a good idea, considering more features and free or inexpensive plans.
WP Meta SEO can work well if you do not need many unwanted features. However, All-In-one SEO and Premium Pack SEO might suit you if you want to optimize your e-commerce website.
On the other hand, if you don't need any extra load for your websites, you can opt for lightweight options such as Slim SEO or The SEO Framework. Since most of the plugins have both free and premium versions, you can always upgrade to the premium versions of these SEO plugins, depending on your optimization requirements.
Therefore, feel free to test out these options to find the ideal Rank Math alternatives. Also, in the comment section, please let us know your choice and experience with these tools.
Meanwhile, you can read the following articles to improve  and optimize your WordPress website: