9 Best OneSignal Alternatives for Better Push Notification Results!
Are you looking for the best OneSignal alternatives? If you need a push notification plugin for your WordPress website or WooCommerce store with similar features to OneSignal (or better), keep reading this article. Here, we will show you nine of the top OneSignal alternatives to send messages from your website.
But before going to the listicle, let's see what OneSignal is and what it offers.
OneSignal: Introduction
If you are into sending out push notifications without any deliverability issues, check out OneSignal.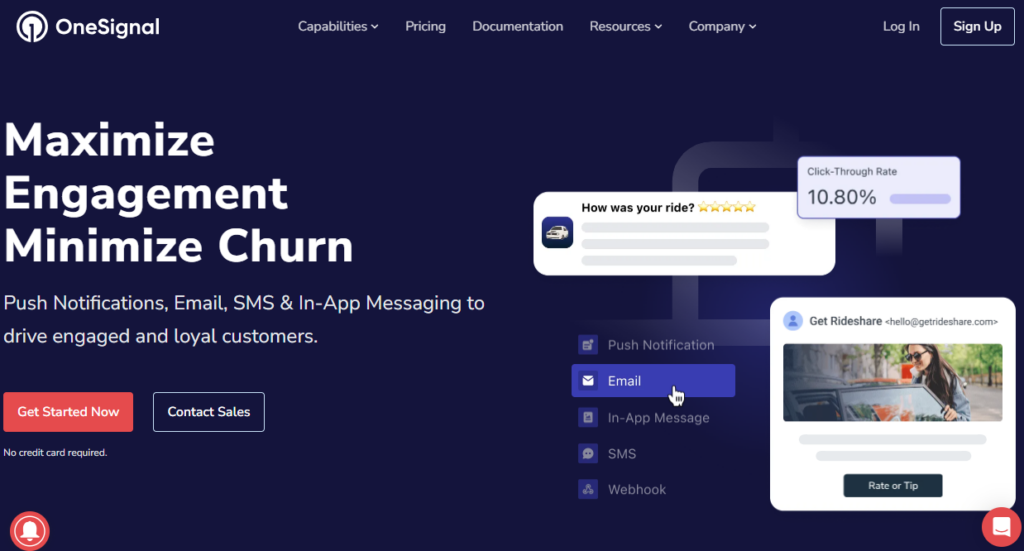 OneSignal is one of the popular push notification services you can use. The platform easily integrates with WordPress. You can also use OneSignal on Shopify, Joomla, or even a custom HTML website. The most popular features of OneSignal are:
Personalization
API Access
In-app messaging
Tracking
CSV exports
User permissions
Excellent support team
Now you know what's OneSignal and what makes it unique. Next, let's see what to look for in a push notification plugin.
What to Look for In a Push Notification Plugin
When you choose a push notification plugin, consider these factors:
Features: The main thing you should check is the tool's features. If the selected push notification tool does not offer decent features, look for another one.
Segmentation: Segmentation will help you organize your subscribers better. Hence, look for a push notification plugin that has the segmentation feature. This way, you can send targeted push notifications to your subscribers.
Subscribers count: Check how many subscribers you can handle on the platform. Some push notification plugins limit the subscriber count, while others allow unlimited subscribers.
Upgrade/downgrade options: Some push notification services are freemium. Check how they deal with upgrading or downgrading the plan. As your subscribers grow, you need to upgrade the plan. Therefore, checking this would be ideal.
Pricing: Pricing should be one of the main concerns for selecting a tool. Ensure you are getting features for the price. There are several free push notification services available. If you are on a budget, choose those first.
Support: A push notification service with an excellent customer support team is great. This way, if you need help setting up or tweaking the service, you will always get a hand to help you.
Now you know how to choose the best push notification plugin. Next, let's see the top OneSignal alternatives you should try.
Best 9 OneSignal Alternatives to Try
In a nutshell, the plugins we are going to cover are:
PushEngage
PushAssist
Webpushr
Perfecty Push Notifications
VWO
WonderPush
PushAlert
iZooto
Truepush
Each tool comes with unique features. Below, we will explain what makes individual plugins unique. Based on your requirements, choose a plugin.
1. PushEngage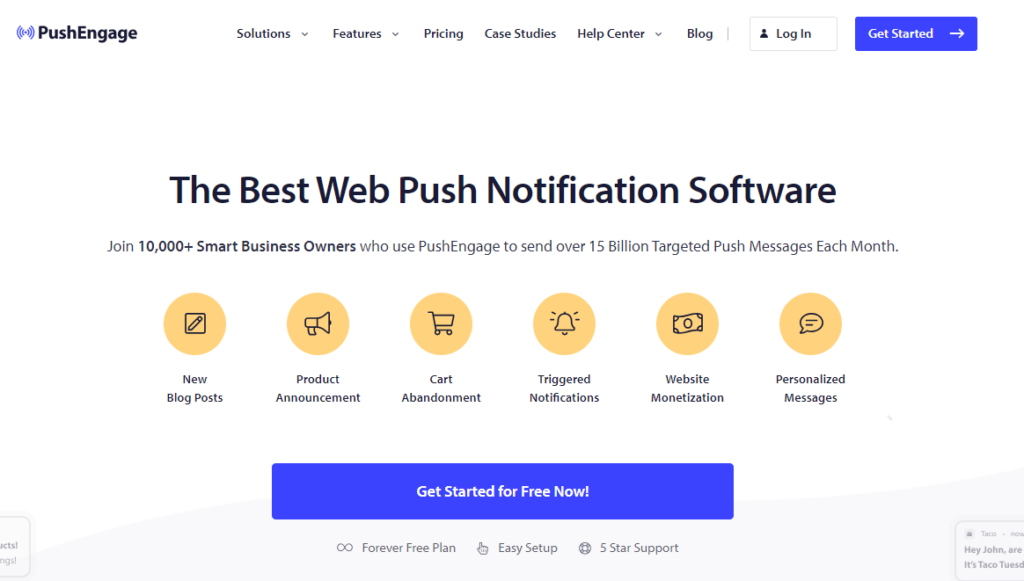 When you prefer a powerful push notification plugin for your website, check out PushEngage. Pngage comes with cutting-edge features that you can use to make the push notifications customizable. Some notable features offered by PushEngage are segmentation, notification styles, cart abandonment recovery, and personalization.
The segmentation feature will help you categorize the subscribers. You can order them based on location, gender, age group, etc. When you use this feature, you can send targeted promotions. For example, if you need to promote a deal available only to a specific country, use segmentation to filter subscribers from that country and send them the notification.
The notifications tiles can be customized further. You can modify the title, featured image, CTA button text, landing page URL, etc. On top of that, if you are running an online store with WooCommerce and reducing cart abandonment, PushEngage has got you covered. With its recovery technique, you can quickly get all the lost sales.
Features
Highly customizable
Multiple notification styles
Helps with cart abandonment
Segmentation
Personalization
Pricing
PushEngage is a freemium tool. With the free plan, You can have up to 200 subscribers. The premium plan starts at $9 monthly and will remove all the restrictions.
2. PushAssist
PushAssist will help you send unlimited push notifications to your subscribers without issues. It has some fantastic hardware that can handle spikes in traffic and heavy data. The platform also has an excellent customer support team. You can get support via live chat or email. The tool is also compatible with AMP (Accelerated Mobile Pages), which will help you optimize your mobile website.
You can also remove branding from the push notifications. It is a great feature when running an online store or a big brand. PushAssist is compatible with both HTTP and HTTPS. When you use an SSL certificate to protect your website, PushAssist won't cause compatibility issues. Using the geo-targeting feature, you can send targeted push notifications to your subscribers.
PushAssist is also developer friendly. Using the REST API feature, you can enhance the plugin's features. The A/B testing is another great feature you are going to love. Using this feature, you can test multiple campaigns for better conversion rates and choose the right one.
Features
Unlimited notifications
Removable branding
AMP integration
Geo-targeting
A/B testing
Pricing
PushAssist is a freemium tool. The free plan has a limit of 3,000 push notification subscribers. The premium plan starts at $9 a month.
3. Webpushr
Webpushr is a good push notification service compatible with most modern web browsers. It supports Chrome, Safari, Firefox, Safari, Edge, and Opera browsers. The platform is also compatible with mobile phones and desktops. On top of that, Webpushr works well with an SSL certificate. If you run an online store with the HTTPS protocol, Webpushr would be one of the best tools to handle all the push notification campaigns.
Another feature you are going to love is the migration feature. Use the feature if you already use third-party push notification services and need to move to Webpushr. There will be no manual work required. Once the integration is completed, the platform will handle the subscriber's migration.
You can also schedule notifications to send later. When you run a limited-time deal and need to let the users know about it in the future, the notifications scheduling will be helpful. This way, you do not need to spend time sending the notifications at the time of the event. Scheduling it will give you more time to work on other tasks.
Features
Compatible with multiple browsers
Compatible with mobiles and desktop
Easy subscribers migration
Notification Scheduling
Emoji support
Pricing
Webpushr is a freemium tool. With the free version plan, you can store up to 10k subscribers. The premium plans cost $29 a month.
4. Perfecty Push Notifications
Do you want to use a self-hosted push notification service? If your answer is yes, check out Perfecty. Perfecty is one of the best and most easy-to-use self-hosted services. The plugin doesn't have any hidden fees. Since you host all the data on your server, all the personal/customer details are secure. You will also have the feature to migrate your subscribers from OneSignal to Perfecty.
Perfecty will also work well with most AMP plugins for WordPress. While publishing a new blog post, you can automatically send the update as a notification. This will help you get some steady traffic to your newly published article. You can also send custom messages and send messages after post-publish.
You can choose a featured image as the thumbnail for your messages. In the WordPress dashboard, you can see every stat. Through Push API, you can also send offline notifications to subscribers not connected to the internet. It is one of the best OneSignal alternatives.
Features
Highly secured
Custom push notifications
Reports
AMP optimized
Migrate from third-party push notification services
Pricing
Perfecty is a free plugin. You can download it from the WordPress plugins repository.
5. VWO
Do you want to use the most powerful platform for your push notification campaigns? If you want a platform with great features, check out VWO. The platform allows you to create a custom opt-in form for the subscribers. You can also personalize the notification by entering the name. If you run an online store, you can also show the products they have added to the cart.
The geo-targeting is another cool feature. When you run an event or another campaign for a specific country, you can use the feature to target the particular country. This way, you can reduce the notifications sent from the server and improve the campaign.
You can also add images or emojis to your messages. This is an excellent feature to express the message better.
Features
Geo-targeting
Drip notifications
Deep tracking
Segmentation
Personalization
Pricing
VMO is a freemium service. The premium plans start at $150 a month.
6. WonderPush
When you are looking for a push notification service without any restrictions, WonderPush is the right one for you. It is also an affordable push notification service you should try. The main feature of WonderPush is you can create as many projects under your account. Therefore, if you manage multiple sites and need to add a push notifications feature to each one, use this feature.
Apart from that, you can also add your team members to the account. While another department handles the push notifications, like the marketing team, the team management feature would be helpful. WonderPush promises some of the best delivery rates in the market. This way, you can ensure all the campaigns will run smoothly and the subscribers will get all your messages on their devices.
You can generate real-time reports to see how the campaigns perform. You can also export the results to XLS, which will help you for future references. If you need help, contact the support team. Their support team does a great job helping the customers quickly and solving all the problems.
Features
Unlimited projects
Add staff members
Better delivery rates
A/B testing
Reports
Pricing
WonderPush is a premium service. For every 1000 subscribers, they will charge you €1 a month.
7. PushAlert
If you are looking for a reliable push notification provider for your WordPress website or WooCommerce store, check out PushAlert. PushAlert won't limit the messages you can send from the platform. Since the tool also supports HTTPS, you can send messages from your SSL-enabled website. Notifications can also be sent to mobile and desktop.
Another notable feature of the platform is the welcome drip. You can send a customized welcome message once the subscriber joins your push notification list. This will help you give the user a good experience. All the notification messages can be customized and matched with your brand. The timezone optimization feature is another notable feature of PushAlert.
Based on your user's timezone, you can deliver the notifications. This will help you with better open rates. Combining this feature with notification scheduling would be ideal for your business. It is one of the best OneSignal alternatives.
Features
Higher conversion rates
Easy to configure
Personalization
Segmentation
CTA buttons
Pricing
PushAlert is a freemium tool. The free plan can hold up to 3,000 subscribers. The premium plans starts at $10 monthly and will unlock more powerful features.
8. iZooto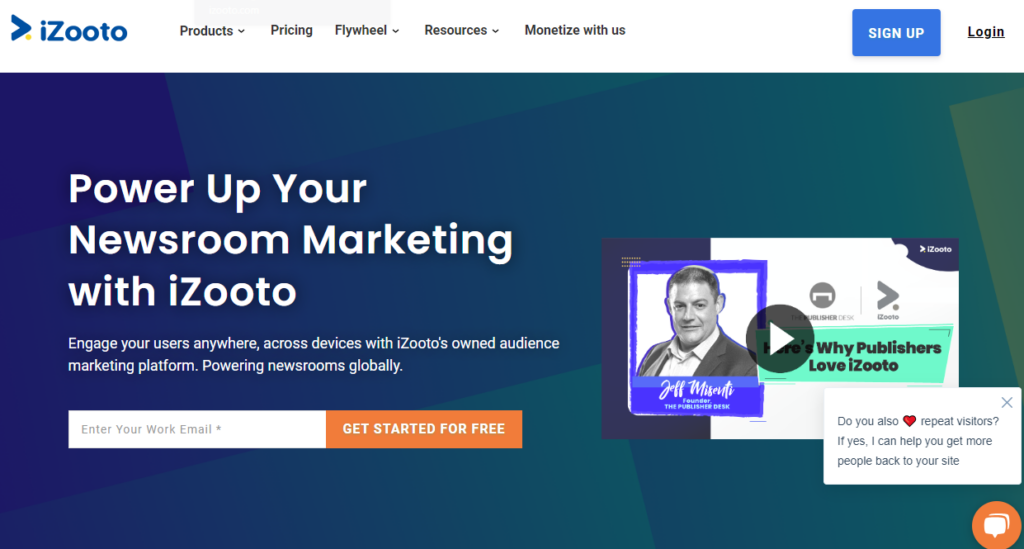 When sending custom push notifications is your main concern, you should consider using iZooto. It is one of the best platforms to improve your marketing campaigns and efforts. With the iZooto push notifications, you can get more returning visitors to your website. The main advantage of the platform is the user-friendly dashboard.
Through the dashboard, you will know how many subscribers you have, which ones use mobile/desktop, and so on. You will also get an option to download the report as a CSV file from the same page. The targeting system provided by iZooto is also excellent. With it, you can target subscribers based on their location or device type.
You can check the reports tab to know how the campaigns are doing. This way, you can modify the campaigns for better and optimize conversion rates.
Features
Custom templates
Targeting
Performance report
Emojis and icons support
Easy-to-use dashboard
Pricing
iZooto is a freemium push notification tool. The free plan can be used on up to 10 websites. The premium plans start at $85 a month.
9. Truepush
If your primary concern is a beginner-friendly plugin, check out Truepush. Truepush has an easy-to-use user dashboard that will help everyone send messages based on custom rules. The tool also comes with specific features that will simplify the process. You can send, edit, or create custom campaigns through the beginner-friendly dashboard according to your needs.
The RSS to push is a nice feature on blogs that publish content regularly. Using this feature, you can automate the push notification-sending feature. To reduce the server loads, you can use the grouping feature. Therefore, all the notifications in the queue will be moved to batches. This way, the server won't feel any heavy load, and the process will run without issues.
They have a monetization program to make extra money through the tool. The program will send relevant push notification ads to your subscribers. According to the interaction, you can make money. We will not recommend using the monetization feature if you represent a brand. In short, it is one of the best OneSignal alternatives.
Features
Easy-to-use
RSS to push
Segmentation
Custom triggers
Custom monetization program
Pricing
Truepush is a freemium tool. You can store up to 30k push subscribers with the free plan. Their premium plans start at $29 a month.
Conclusion
Adding a push notification system to your WordPress website or WooCommerce store would be ideal if you need to get returning traffic. OneSignal is one of the popular services in the market to send messages. However, if you think you can get a better push notification provider than OneSignal, here is the list.
In this article, we have shared nine OneSignal alternatives you can use to send out messages. When you need a powerful push notification service, use PushAssist, VWO, PushAlert, or Truepush. Perfecty can be used to send out messages from your server.
PushEngage is another great tool with an easy-to-use dashboard. iZooto, WonderPush, and Webpushr are good for online stores. Based on your needs, pick a tool.
Which OneSignal alternatives are good?
Let us know in the comments.
Here are a couple of articles you will find helpful: