Are you looking for the best BeTheme alternatives you can try? BeTheme is one of the best multipurpose WordPress themes in the market. But if you need a better option, keep reading this article. Here, we will show you the best nine themes you can use instead of BeThemes.
But before going further, let's see when to look for BeTheme alternatives.
Why Look for a BeTheme Alternative
If you think BeTheme is not offering the features you need, you should look for an alternative. Apart from features, if BeTheme is incompatible with your WordPress website, it is time to look for an alternative. Some people will use custom plugins on their websites to enhance their features. So, if the theme is not playing well with your website, check out BeTheme alternatives.
In the WordPress themes repository, you can see thousands of free WordPress themes. On the other hand, if you check theme developer's websites or marketplaces, you can see premium options.
So you are not limited by the available options. Many BeTheme alternatives are available in the market, which will help you create the best website you can.
What to Look for in a Multipurpose WordPress Theme
When you need a multipurpose theme for your WordPress website or WooCommerce store, consider these factors:
Performance: The main thing you should consider is how fast the theme would be. We will not recommend using a theme that takes 8-10 seconds to load. So, before choosing a theme, consider running a speed test.
Updates: A theme that receives regular updates is a plus. This way, you can get more features and bug fixes.
Support: A WordPress theme with an excellent support team would be great. This way, you can get help with the item quickly.
Pricing: Pricing would be one of the main concerns for most people. You can choose either a free version theme or a premium one. While you select the free version, there will be limitations in the features. On the other hand, a premium theme will unlock more unique features and integrations.
Features: Understand what you will get with the theme. You better check another theme if you can't spot the needed features.
Compatibility: You might be using custom codes or plugins on your website. So, ensure the theme won't cause any compatibility issues.
Now you know how to choose the best theme for your website. Next, let's have a look at the nine best BeTheme alternatives.
Best BeTheme Alternatives to Try
In a nutshell, the best BeTheme alternatives are:
Avada
Flatsome
Divi
X Theme
Enfold
Bridge
Astra
Soledad
Porto
Each theme comes with unique features. Based on your requirements and preferences, you can choose a theme. Below, we will explain what makes each theme unique.
Without any further ado, let's get into the list.
1. Avada
If you need to create a powerful website or online store without hassle, check out Avada. It is one of the best BeTheme alternatives that support WooCommerce and WordPress translation plugins. Avada has a WooCommerce feature where you can customize the WooCommerce shop and individual product pages for maximum conversion rates. These customizations don't need any coding knowledge.
From the WordPress customizer, you can make most of the changes. With the custom header and footer builder, you can eat unique headers and footers for your website. When someone lands on your website, the headers would be the main thing they notice. So, creating a unique will make you stand out from the crowd.
Avada also comes with a custom form builder. You can create website forms without a dedicated WordPress form builder plugin. This is one of the unique features of Avada.
Features
Custom website builder
Header and footer builder
WooCommerce optimization
Performance wizard
Form Builder
Pricing
Avada is a premium WordPress theme. The theme can be purchased from the ThemeForest marketplace and costs $69 (one-time fee).
2. Flatsome
When flexibility is your main concern, you should check out Flatsome. Flatsome is a WooCommerce-optimized multipurpose theme that receives regular updates. The developers frequently release updates with more features, bug fixes, etc. The theme is compatible with the latest versions of WordPress, WooCommerce, and Gutenberg.
You will get a child theme with Flatsome, which you can use to make modifications. The modifications won't be lost after a massive parent theme update when you use a child theme. This way, you can keep all the customizations unaffected. Another notable feature of Flatsome is the WPML compatibility.
If you are running a multilingual website and need to translate the content to multiple languages, you can use any plugin like WPML or Weglot. Their element directory contains many elements you can use on the website. Some popular elements are images, videos, maps, tabs, pricing tables, etc.
Features
WooCommerce optimized
Header builder
Regular updates
Lightweight
Multiple elements
Pricing
Flatsome is a premium WordPress theme. You can get it from the ThemeForest marketplace, which costs $59 (one-time fee).
3. Divi
If you have been in the WordPress industry for a while, you probably know Divi. Divi is an excellent multipurpose theme created by Elegant Themes. The theme comes with many features that you can use to create a powerful website or WooCommerce store. The main feature of Divi is its visual page builder called Divi Builder. You can modify the website from the front end without touching a single line of code.
You will also get access to the custom template pack created by Divi developers. Also, you can see every demo in the demo pack. Apart from that, to customize the demos, you can import them to the live website and go to the front-end editor. Divi also comes with 2000+ elements. You can drag and drop elements where you need them.
You can enable the performance optimization methods to optimize the website's speed. Divi has an in-built performance optimization wizard to help you enable/disable certain features. From the theme panel, you can customize every inch of the website. Plus, the support team is also great. If you need help with the theme, simply contact the help desk.
Features
Visual builder
Custom templates
2000+ elements
Animations
Performance optimization
Pricing
Divi is a premium WordPress theme. You can buy Divi from the official website of Elegant Themes. And Divi will cost you $89/year.
4. X Theme
When you think about a feature-rich WordPress theme, check out X. X is a responsive theme suitable for every user. It is a multipurpose theme, so that you can use X on any website. The theme comes with a lot of layout options. Integrating the custom page builder with layouts allows you to create stunning designs without hassle.
More than 600 Google fonts are available in the theme. So, you have many options if you need to change the website's typography. You can also modify the font weight, styles, etc., and change the fonts. The built-in mega menu option will come in handy in multiple situations. You can list the best-selling products in the mega menu when running an online store.
X also comes with 600+ icon fonts. You can load the icon fonts anywhere on the website without impacting the website's speed. The icon fonts are responsive and will look good on all devices. You can also show the social media icons on the theme's header or sidebar. You do not need to use dedicated social media plugins for this task.
Features
Dynamic content
Undo/redo
Role manager
Custom fonts
Megamenu
Pricing
X is a premium WordPress theme. You can get the theme from the ThemeForest marketplace, which will cost you $79 (one-time fee).
5. Enfold
If you are looking for a highly customizable theme, use Enfold. Enfold comes with a dedicated page builder, which is developed in-house. The page builder allows you to modify the website's design without hassle. The page builder also has unique elements such as columns, buttons, galleries, CTA, testimonials, etc.
Enfold is also translation-ready. Using a WordPress translation plugin like Weglot or WPML, you can make your website worldwide accessible. The theme will work on multisites, too. With the MailChimp newsletter integration, you can collect the email addresses of your website visitors without any hassle. With the advanced typography options, you can modify the font options of your website.
You will get wide and boxed layout options. Based on your preferences, you can choose an option. All the theme configurations can be changed from the theme panel. The theme panel has a minimalistic design, and everyone can easily navigate options without hassle. Overall, Enfold is one of the good BeTheme alternatives.
Features
Custom page builder
Translation ready
WPML optimized
SEO optimized
Multisite ready
Pricing
Enfold is a premium WordPress theme. If you are ready to get it, check out the ThemeForest marketplace. The theme costs $59 (one-time fee).
6. Bridge
If you are a massive fan of the Elementor page builder and need to use a dedicated theme optimized for Elementor, check out Bridge. Bridge is a multipurpose, magazine-style theme with over 200,000 sales. The theme has more than 610 demos with it. You can pick a demo and import it to your live website based on your niche or industry.
The theme is also highly customizable. You will get multiple elements with the Bridge theme, like header and footer customizer, social media icon integration, mega menus, sliders, etc. Setting up the theme won't be a challenging task. You can modify the options from the dedicated theme panel and improve your WordPress website.
Bridge also has an excellent team. If you need help setting up the theme or modifying any options, all you need to do is contact the help desk. They will assist you personally with all issues. Plus the documentation section is also great. You can get video tutorials for theme configurations, which will be easy to understand and follow.
Features
Optimized for Elementor
Well documented
Highly customizable
Dedicated admin panel
translation ready
Pricing
Bridge is a premium WordPress theme. You can get it from the ThemeForest marketplace, which costs $69 (one-time fee).
7. Astra
When your main priority is a speed-optimized WordPress theme, you should check out Astra. Astra has lightweight code that will not slow down your website or WooCommerce store. Another feature you are going to love is the page builder compatibility. The development team has already created a set of templates that you can import to your website.
You can design the page with Gutenberg or any other third-party page-building plugins. Astra is also optimized for SEO. The in-built schema code will help you rank your content higher on results. Apart from the integrated schema code, Astra also supports integration with plugins like LifterLMS and LearnDash.
You can also get the complete control of the website's typography. Astra has all the Google fonts integrated with it. You can tweak the font size, style, and weight of individual elements. It is an excellent option to boost the user experience of the website/store. With the WooCommerce optimization features, you can modify the shop archive, individual, or category archive pages.
Features
Typography control
Lightweight
WooCommerce optimized
Header and footer builder
SEO optimized
Pricing
Astra is a freemium WordPress theme. You can get the free version of the theme from the repository. On the other hand, the premium version theme will unlock more powerful features and cost $47 a year.
8. Soledad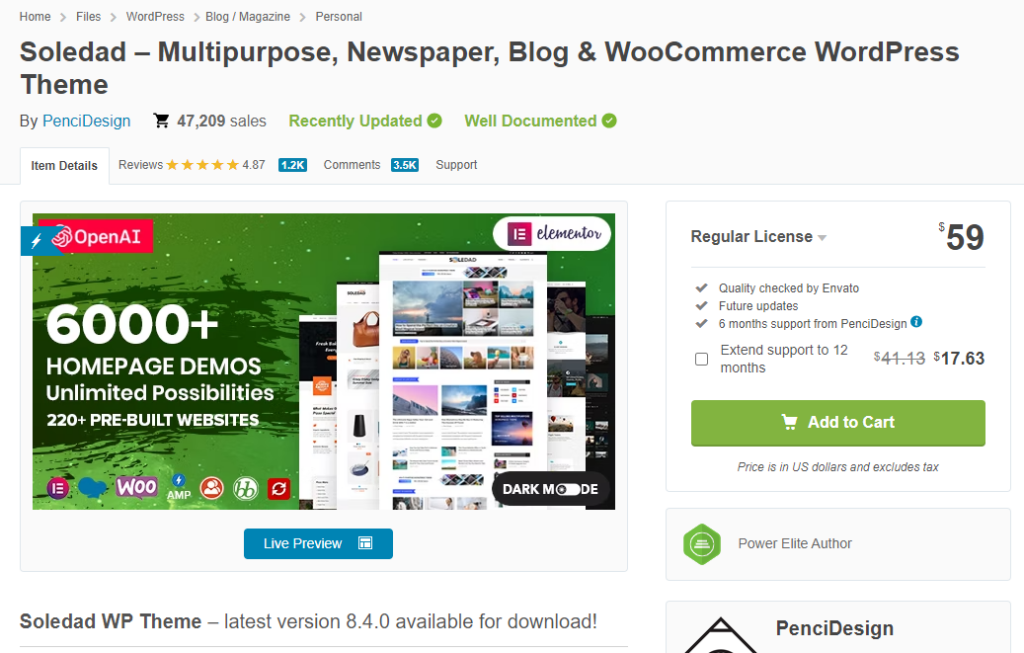 When you need a powerful newspaper or magazine theme, you should check out Soledad. Soledad is an AMP-optimized WordPress theme you can rely on to run the best magazine or WooCommerce store. If you already use other multipurpose themes like Newspaper, Newsmag, Sahifa, or Bimber, you can use the migration tool available with Soledad to import the website design.
This is one of the unique features offered by any WordPress theme. With the migration option, you can import your existing website design into Soledad. Apart from that, there are 1000+ customization options available in the theme to modify the design. You can use WordPress Customizer or a dedicated page builder plugin to tweak the website's design. Both options are good, and you can modify the website.
On top of that, Soledad is optimized for Google AMP. Hence, if you target mainly mobile visitors using the AMP feature, your website will load faster on the devices. You will also get to choose a dark/light theme. Based on your preferences, you can select an option. Soledad is also optimized for SEO, which will help you rank your content higher in search engine result pages.
Features
Optimized for page builders
AMP ready
SEO optimized
Translation ready
Easy migrations
Pricing
Soledad is a premium WordPress theme you can get from the ThemeForest marketplace. The price of this theme is $59 (one-time fee).
9. Porto
The final one on our list is Porto, a multipurpose WordPress theme ideal for WooCommerce stores and business websites. The main advantage of Porto is compatibility with page builders. Without compatibility issues, you can use page builder plugins like Elementor, WPBakery, and Beaver Builder with Porto. This way, you can create stunning designs for your website/WooCommerce store.
The AI integration feature is another excellent thing Porto has. With the AI integration, you can generate content or WooCommerce product descriptions. The AI tool will generate SEO-optimized content, which will help you gain a better position in SERPs. Porto is also an FSE theme, making the website design process a cakewalk.
The website's performance won't be affected since the theme has a lightweight code. More than 130 demo templates in Porto can be imported to a live website. All the templates are customizable, and you can redesign the website. The WooCommerce optimization is another notable thing of Porto, and you can run the best WooCommerce store with the theme without any compatibility issues.
Features
Compatible with page builder
WooCommerce optimized
Custom templates
Optimized for performance
AI content generator
Pricing
Porto is a premium WordPress theme. You can download it from the ThemeForest marketplace. Porto costs $59 (one-time fee).
Conclusion
BeTheme is an excellent WordPress theme you can try. It has multiple features you will love. But if you are searching for the perfect BeTheme alternatives, here are they.
Divi and Avada are the ideal options if you need front-end editing experience. Both themes are feature-rich and have an excellent customer support system. When you prefer a speed-optimized theme, check out Astra. You can take Astra to the next level using a page builder plugin. Porto and Sahifa can help you run a good WooCommerce store without compatibility issues.
Soledad and X are ideal options if you prefer flexibility. You can choose a theme according to your preferences.
Which theme are you going to use?
Let us know in the comments!
Also, here are a couple of articles you will find helpful: