Are you planning to start an online store? If so, then you've come to the right place. In this article, we'll show you the best eCommerce platforms.
But before we get into it, let's examine why starting an online store is ideal and what factors to consider while selecting a platform. Let's find it out.
Why Starting an Online Store Is Ideal
The value of having an online store cannot be overstated in the modern age. The digital world has changed how companies work and communicate with their customers. With many people depending on the Internet for shopping, entrepreneurs must build a solid online presence even if their business is offline.
By launching an online business, businesses can access this vast potential customer base and expand their reach beyond geographical borders. Furthermore, an online store allows customers to browse products or services without leaving the comfort of their home or office. This accessibility offers more chances for increased sales as more people are likely to make purchases when they encounter hassle-free transactions.
Additionally, running an online store enables business owners to track customer behaviors and market trends by utilizing a range of digital marketing strategies such as SEO, social media marketing, content marketing, and email campaigns – all of which are designed to attract potential buyers and direct traffic towards their online store.
What to Consider While Choosing an eCommerce Platform
Choosing the right eCommerce platform is crucial for long-term success when setting up an online business. Several factors must be considered while evaluating various eCommerce platforms available today.
Compatibility:  Smooth shopping experience for customers across all platforms and devices.
Scalability and flexibility:  Seamlessly accommodating increasing traffic volumes and product catalogs.
Security: Robust data protection mechanisms to safeguard customer information and transaction details from potential cyber threats.
Pricing: Plans that provide the best value proposition without compromising on quality features required for seamless online selling experiences.
Integrations: Integration capabilities with third-party tools like payment gateways or marketing automation systems are essential to optimize operations efficiently.
Customization: Access to diverse design templates or themes to create a unique online storefront that aligns with the brand identity and attracts the target audience.
Pricing: Plans that provide the best value proposition without compromising on quality features required for seamless online selling experiences.
And so on.
Now you know the factors to consider while choosing an eCommerce platform. The following section will explain the nine best eCommerce platforms you should check.
Best 9 eCommerce Platforms You Should Try
The eCommerce platforms we are going to list are:
WooCommerce
Shopify
Adobe Commerce
BigCommerce
Wix
PrestaShop
Sellfy
Squarespace
BigCartel
Each of these eCommerce platforms has unique features. Below, we explain what makes them special. You can choose an eCommerce platform for your online business based on your preferences and budget.
Without any further ado, let's get into the list.
1. WooCommerce
WooCommerce is a free and open-source eCommerce platform. It's the most straightforward method for adding eCommerce features to a WordPress site. It's a WordPress plugin that lets you create shoppable pages on your website using predefined themes and a drag-and-drop store builder.
If you don't already have a WordPress site, you can put one up quickly and easily. This step-by-step tutorial will guide you through the entire process. The best part about WooCommerce is its adaptability. You can also utilize free themes, print shipping labels, and handle orders without investing money. WooCommerce Payments, the plugin's secure payment gateway, only charges a transaction fee on each sale.
But remember that because WooCommerce is self-hosted, you'll also need to pay a minimal monthly charge for web hosting and a custom domain name. This means the platform does not supply hosting, though they provides a few top solutions for the best results.
Features
WordPress one-click installation of WooCommerce
Third-party payment system integrated
To create a store, use the drag-and-drop tool
Hassle-free product listing with a built-in function
Suitable for small and large businesses
Pricing
WooCommerce is free to use because it is an open-source solution. But you'll have to cover the cost of your payment gateways and hosting.
2. Shopify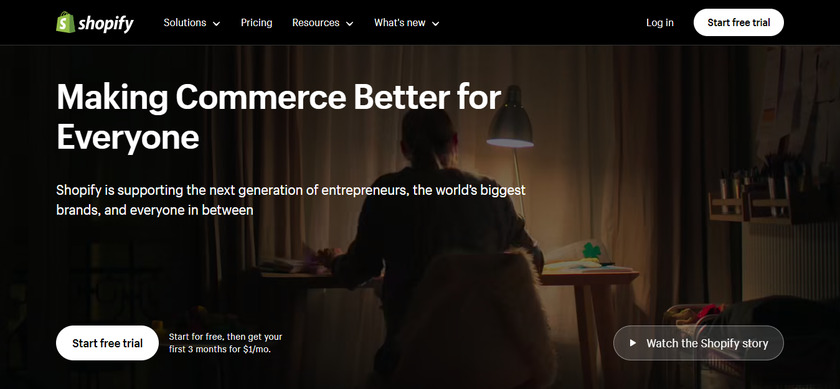 Shopify is another well-known eCommerce platform on our list. Its simplicity is trendy among startups and store owners who carry out dropshipping. It may not be the cheapest price, but it is one of the best eCommerce platforms for small businesses because it is incredibly user-friendly.
When you sign up, you get access to everything you need to build a stunning store with hundreds of readymade templates, optimize your product pages for search engines, and handle the day-to-day operations of an online business. They also provide a Shopify POS app, enabling you to handle payments made in your Shopify admin and take them to your store.
Additionally, if you opt for paid plans, various marketing tools are available to assist with optimization and enhance the performance of your online store. Shopify is also scalable, so it can expand to accommodate your growing business, making it a perfect platform for small businesses, larger firms, and retailers.
Features
It comes with features ready for dropshipping
Hire professionals for your store with Shopify
There are over 6000 apps available for Shopify integration
Equipped to Market Products in Bulk
A free trial is offered to help you get started
Pricing
Shopify is a premium eCommerce platform. Its basic plan costs $25 per month, and its advanced plan costs $399.
3. Adobe Commerce
Adobe Commerce (formerly known as Magento) is an all-in-one platform for businesses of all sizes wanting to be successful online. While it offers eCommerce, along with that, it also provides corporate solutions to large enterprises. If you plan to grow and expand, starting with a feature-rich platform like Adobe Commerce can be worthwhile if you don't want to switch to platforms later.
This platform includes integrated e-commerce services such as predefined themes, built-in payment methods, and shipping options. It also provides a range of features that are growth-oriented. These consist of tools for sales enablement, business intelligence, and business support.
Furthermore, you can create a scalable and adaptable business using the platform, which handles everything from fulfillment to payments to catalogs. This is a good option if you have a developer because coding is essential. Add a live chat widget if you want real-time conversations with customers on your Adobe Commerce store.
Features
Options for free shipping
Implementing adaptable features for a new website
Easy handling of orders and products
Sufficient resources to understand the process
User dashboard that is simple to use
Pricing
You can download Adobe Commerce for free and customize the platform. The cost for the premium version is customized according to the features you want.
4. BigCommerce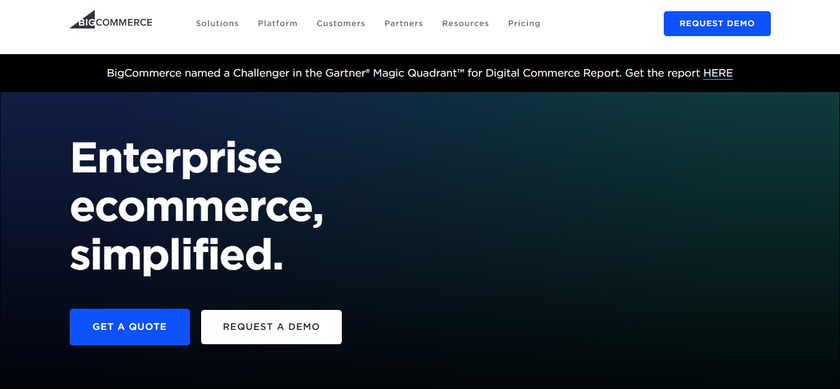 One of the most significant eCommerce platforms for small businesses is BigCommerce. Its user-friendly drag-and-drop element builder lets you construct a full-fledged eCommerce store in less than a day. You can make it essential by creating a simple one-page store to sell digital goods or creating a multi-page store with engaging content.
BigCommerce is a SaaS-based eCommerce platform. It lets you sell offline and online through platforms like eBay, Amazon, and social media. It has the versatility to customize the shopping experience you provide up to every detail.
With BigCommerce's APIs, you can expand the e-commerce capability to accommodate B2B sales and custom eCommerce solutions as your business grows. As soon as you start to sell through BigCommerce, you can use the platform's analytics report to monitor the performance of your products.
Features
Integrated visual merchandising tools
No costs for transactions
Products, storage, and bandwidth are all unlimited
Options for product reviews and ratings
A wide range of free applications is available
Pricing
BigCommerce is a premium eCommerce platform that starts at the cost of $29.95 per month.
5. Wix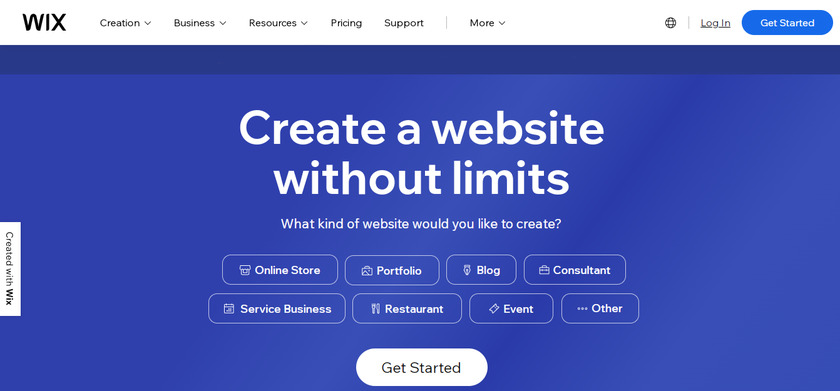 Wix started as a drag-and-drop website builder but has developed into a dependable resource as one of the best eCommerce platforms. With the right tools at your access, you can create and customize your eCommerce store, add as many products as you'd like, take safe online payments, and oversee end-to-end fulfillment.
Because of its drag-and-drop configuration, you can preview the appearance of your storefront. Additionally, your online store is optimized for mobile devices, making it more straightforward for prospective customers to browse and make purchases.
Wix makes it easy for even non-techies to create unique eCommerce websites, which saves startups a ton of money. All we have to do is select the layout and create a mobile-friendly store that has all the required pages. Along with many other features, it has an extensive media library with which it becomes simple to handle product orders and inventories.
Features
A wide selection of excellent themes to personalize your website
Various secure options for your clients to make payments
Vast array of plugins and applications
Can begin at no cost
Several coupon and discount options
Pricing
Wix is a premium eCommerce platform. The most basic plan costs $30 per month.
6. PrestaShop
PrestaShop is an excellent pick if you're looking for a super easy eCommerce platform for small businesses that don't require you to know much about web design and integrations. The platform offers features, including configurable checkouts, numerous payment processors, and a product management system.
They partner with Google, eBay, and other companies to make the platform accessible without transaction costs. However, you are still required to pay for hosting and premium services, but starting as a small store owner is reasonable.
In addition to selling goods online, it can take reservations, sell digital products, or run a marketplace. You can effortlessly translate your business into multiple languages and currencies to reach a larger audience. For an overview of sales data and store performance with eCommerce analytics, PrestaShop Metrics uses Google Analytics synchronization.
Features
Wide range of payment methods
Statistics on visitors, sales, and orders
75 languages are supported by default
Notifications of cart abandonment
Optimized SEO functionality
Pricing
PrestaShop is a freemium eCommerce platform. You can download both free and premium versions from their official website. The premium version costs $25 per month.
7. Sellfy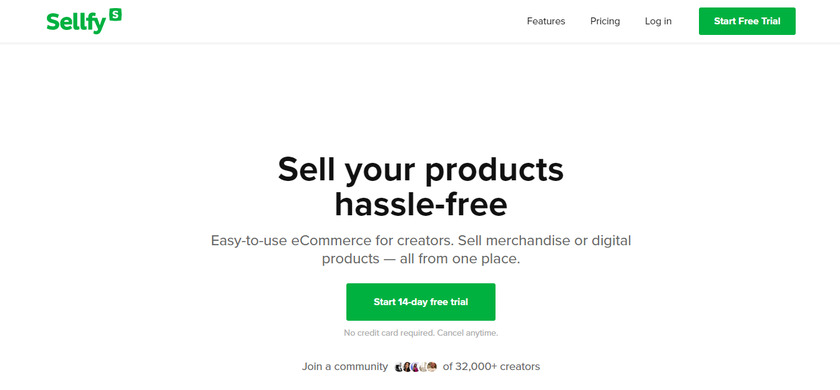 Sellfy is an easy-to-use eCommerce platform for creators who want to sell print-on-demand, subscriptions, and digital and physical goods from a single storefront. Because of its ease of use and capacity to manage digital and physical products, it is particularly well-liked among vendors.
With Sellfy, business owners can set up online stores and sell products. It is a well-known platform for selling various goods, including eBooks, music, films, courses, etc. To put it simply, Sellfy supports all business models.
Overall, Sellfy is a complete solution for many online entrepreneurs since it offers tools for analytics, marketing, and integration with other services.
Features
Includes a marketing toolkit
Provide streaming video access
Stream your videos on consumer demand
Add unlimited numbers of physical products
Provide digital subscription services
Pricing
Sellfy is a premium eCommerce platform. The Starter plan on Sellfy costs $29 monthly for a single month. You can use the platform for free for up to 14 days.
8. Squarespace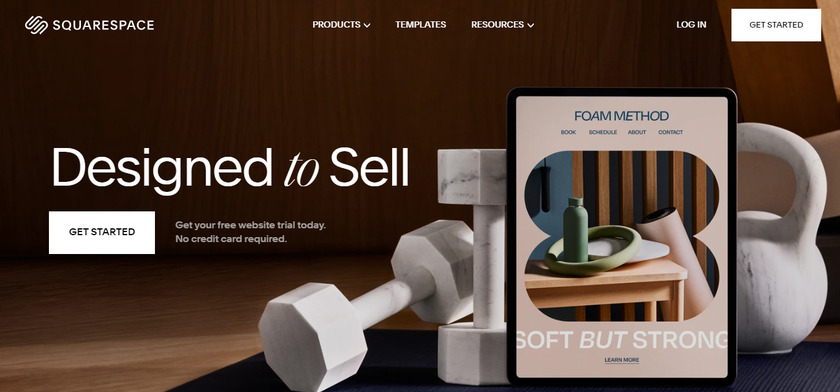 Squarespace is an excellent platform for creative flexibility over your e-commerce website. This cloud-hosted website builder has a similar design to Wix but has more sophisticated capabilities, like great social network channel integration.
Squarespace is a worthwhile option if you're looking to create a visually striking online portfolio or business. It's easy to switch up your style with so many stylish and contemporary templates available.
One advantage is that all annual plans have free domain registration and SSL security. A mobile-friendly checkout with no transaction costs is another perk available, regardless of your plan.
Features
Many beautiful templates are available for selection
Inexpensive plans
Great integration of social media
Ideal for people who want round-the-clock customer service
Yearly plans with a free domain
Pricing
SquareSpace is a premium eCommerce platform. The starter plan costs $26 a month + 3% transaction fees.
9. BigCartel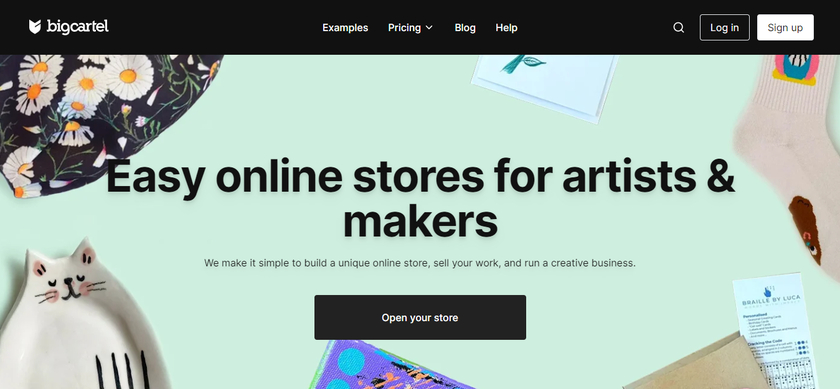 The BigCartel platform is one of the most significant international eCommerce platforms for selling artwork and designs. It's an eCommerce platform designed specifically for artists and art-related enterprises.
The best thing about this platform is that it still provides a free alternative even though its business model is SaaS-based. You can upload a maximum of 5 products with the free plan.
More insights are available through the premium packages. You can monitor product inventories, track delivery, and check Google Analytics data on this platform.
Features
Offers seamless inventory tracking
Create enticing discount codes
Real-time shipment tracking
Allow bulk editing
It comes with a website builder with any plans
Pricing
BigCartel is a premium eCommerce platform that starts at $9.99 per month.
Conclusion
This concludes our list of the best eCommerce platforms. After thorough research and analysis, we have narrowed down a list of 9 of the best eCommerce platforms available today. Whether you are a small business or a large corporation, there is an option suitable for your needs on this list.
These platforms can help you create and grow a successful online store with user-friendly interfaces, customizable features, and secure payment methods. Hence, when choosing one of these platforms, you must consider your specific requirements, business type, target audience, and budget.
We'd love to learn about your experiences while building your dream online business. Are there any better eCommerce platforms we didn't list? Let us know in the comments!
Meanwhile, you might be interested in these other posts related to improving your online store: